After an Unconventional Inauguration: What's Next for the Biden Presidency?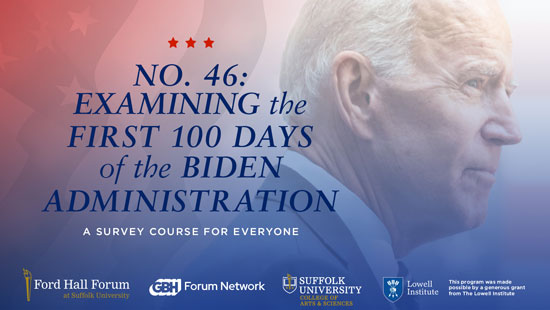 Event Details
Date & Time:
January 13, 2021
6:00 PM - 7:30 PM
Event Description
Joseph R. Biden Jr. will become the 46th President of the United States on January 20 and nobody expects a conventional inauguration.
This webinar launches a new spring series,
Examining the First 100 Days of the Biden Administration
— presented by the Suffolk University Department of Political Science & Legal Studies, in collaboration with the Ford Hall Forum at Suffolk University and hosted by WGBH's Forum Network — that will focus on the most important developments in the early days of the Biden Administration. Guest speakers over the spring semester will examine the ability of the 46th President and his team to affect change in some of the most vital policy areas that impact all of us.
In this first event of the series,
Jim Bendat
, who wrote the book on U.S. inauguration, will offer insight about exactly how unconventional this will be. The expert panel will assess President-Elect Biden's ambitious promise to "build back better" in the wake of a year of pandemic, social unrest, a tanking economy, and a contentious transition. Presidential and congressional scholars
Julia Azari
and
Elaine Kamarck
will talk with
Joe Mathieu
, anchor and executive editor of WGBH's Morning Edition, about the policy priorities, challenges and opportunities on the horizon.
This virtual event is free and open to the public.