Creating the Dream
Sociology Professor Elizabeth Robinson, awarded the 2018 Creating the Dream Award at Suffolk's annual Rev. Martin Luther King celebration, sees the recognition as the impetus for a new beginning.
"I'm treating this as a call to action moving forward," said Robinson, director of the Education Studies program. "It recognizes all the work that needs to be done in education, which I truly believe is the tool to dismantle white supremacy. I'm always looking for the opportunity to engage my students in conversation about challenging and difficult issues."
The Creating the Dream Award, sponsored by the Center for Student Diversity & Inclusion, recognizes members of the Suffolk community who go above and beyond in their efforts to support students, faculty, and staff of color.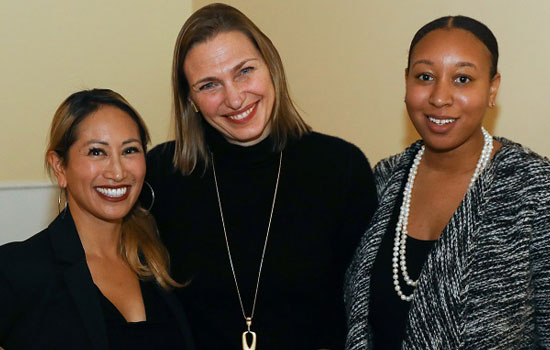 "Nothing could be a bigger honor than receiving this award," said Robinson, who was cited for working tirelessly to foster welcoming spaces for students of color in her classroom and for educating students on issues of racial equity nationwide.
"Professor Robinson is very caring and someone you can talk with and trust," said Elizabeth Le, one of several people who nominated her for the Creating the Dream Award.
"She makes teaching accessible for everybody. She is always telling her students to be open-minded and to respect everyone's perspective no matter their background or culture" said Le, Class of 2018, who has had four courses with Robinson.
Robinson has had students participate in a protest for Indigenous People's Day, is a strong supporter of the Black Student Union, and attends the Social Justice Summit each year.
She says that she is always learning from her students.
"They have so many experiences that they bring to class and are willing to share with everyone. Working with Suffolk students gives me hope that the world will become a better place."
Keynote Speaker Cheryl Matias
Cheryl E. Matias, a professor in the School of Education & Human Development at the University of Colorado Denver, was the keynote speaker at this year's Martin Luther King, Jr., event, held at the African Meeting House on Beacon Hill. She discussed her work on race, ethnicity, and feminism and discussed how whiteness impacts education.
Matias is the faculty founder of Research Advocacy in Critical Education (R.A.C.E), a collaborative think tank that brings together community activists, educators, students, and community members in the pursuit for racial and social justice in education.