All Bruins, All the Time
Alumnus in the thick of the Stanley Cup hunt as reporter and analyst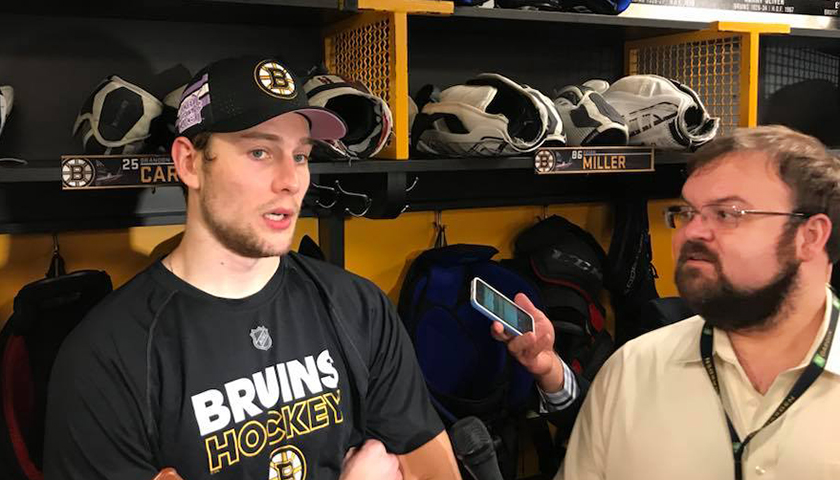 Tim Rosenthal has always been motived by two things – the written word and the sport of hockey.
Today, the Suffolk University alumnus has the best of both worlds as managing editor of Bruins Daily, an online resource and the leading provider of news, analysis, and commentary focused exclusively on the Boston Bruins organization.
And now with the Bruins about to host the St. Louis Blues in the seventh game of the Stanley Cup finals, Rosenthal, Class of 2009, is thrilled about how he makes his living.
"It's been a dream to cover this team my whole life," he said.
Coach Cassidy on goalies
Rosenthal is quick to fire questions at coaches and players. In a post-game televised press conference following the Bruins Game 6 win in St. Louis, Rosenthal pointed out that Bruins goaltender Tuukka Rask has a history of clutch wins in big, series-clinching games. "Do you sense that as times get tough he embraces that situation a little more?" Rosenthal asked Coach Bruce Cassidy.
"I do," Cassidy responded. "He certainly has in these playoffs, and so has their guy," he said referring to Blues netminder Jordan Binnington. "That's why we're going seven games. You've got two good teams that have gone toe to toe here.
"But good for Tuukka. He's allowed us an opportunity to play in a game seven. And the whole hockey world loves a game seven. So it should be a great night in Boston and may the best team win."
Cassidy's quote was picked up by scores of publications from far and wide.
Rosenthal has been with Bruins Daily for eight years. His many tasks include writing, editing, producing video content, and communicating via social media. He attends most of the Bruins home games and practices and has covered some away games during the regular season and the playoffs.
This Bruins-Blues matchup is the third Stanley Cup series Rosenthal has covered. In 2011, he witnessed firsthand the B's defeat of the Vancouver Canucks to win the coveted crown. "I've been so fortunate," he said. "I enjoy everything about my job."
Suffolk laid the foundation
A print journalism major, Rosenthal credits his Suffolk education for teaching him the tools of the trade and preparing him for the real world.
"I'm still using what I was taught in my job today, like how to write a good lead, when to use quotes, and how to bring the human element into a story," he said. "I've taken some of the lessons I've learned to heart and then created my own voice and style along the way."
As a Suffolk student, Rosenthal took advantage of campus opportunities, serving as sports editor of the Suffolk Journal from 2006-08 and landing internships as a writer and editor for two online hockey sites, which helped ignite his professional writing career.
Rosenthal's father is Bob Rosenthal, veteran professor and chair of Suffolk's Department of Advertising, Public Relations, & Social Media. Asked what advice his dad has passed along to him over the years, the young Rosenthal remembers the words of wisdom well: "Do something you're passionate about."
"Tim is certainly living his dream," said Bob Rosenthal. "There were some professors who had tremendous influence on him while he was a student at Suffolk, and he really worked his way up to get to where is now."
Tim Rosenthal is now preparing to cover Game 7, the biggest stage in all of sports.
"It doesn't get any better than this," he said. "It's hard to put into words."