Grad student Anna Duffy on her summer internship in the Massachusetts House Speaker's Office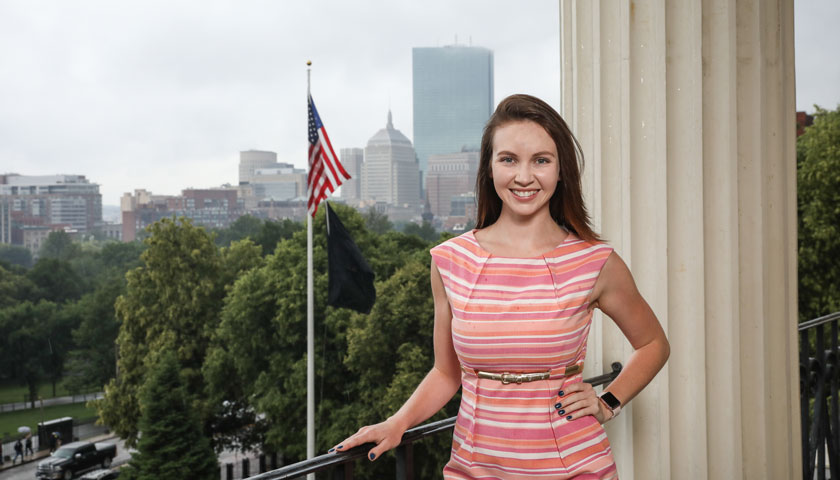 The Massachusetts State House sits just up the hill from Suffolk's campus, but its rich history, complex political dynamics, and nonstop whirl of legislative activity can make it feel like a world of its own. Applied Politics graduate student Anna Duffy discusses how she's making the most of her summer internship at the center of the action:
Q. What is your role at the State House this summer?
A. I'm a communications intern in the office of Massachusetts House Speaker Robert DeLeo. I work directly with the communications director, helping to find relevant news stories, monitor and maintain social media accounts, pitch social campaign and content ideas, and create digital content.
Q. What is a typical day like in your position?
A. Every day is different. Part of my job is to attend events. Today there were two: one on Alzheimer's advocacy and one celebrating unsung heroines of history. Recently we went with the speaker to open up Mass General Hospital's new Center for Gun Violence Prevention.
It's exciting to witness history as it happens. I look forward to going in every day.
Four times a week they hold a legislative intern speaker series. It's been great. We get to meet people in various government positions, hear their stories, and learn about their career experiences. On Thursday the governor spoke, raw, not filtered through the media. We can hear about where leaders came from and ask questions.
Q. What are the biggest challenges?
A. When starting a new position, it takes a while to learn the office dynamics. The State House is so fast-paced and unique. You have to stay organized and always be aware of the culture and history.
Learning new things shows me what I'm good at and what I can work on. I don't have a digital content background. I'm no expert—yet—but I've enjoyed doing it, and I can see an improvement from the things I did on day one to what I can do now.
Q. Has what you've learned at Suffolk been useful in your internship?
A. Suffolk does a great job on academics, and professors also know how real-life politics works.
Professor Kulich [Christina Kulich-Vamvakas] has been a great support. She's always there for us when we have questions. I've stayed in contact with her during the internship. I will do research and write a paper to defend in front of professors. I'm still deciding what political communications topic to cover, but I think I'll focus on how communications influence legislation.
Q. Why did you choose the Master of Arts in Applied Politics program at Suffolk?
A. I love Suffolk's location and the professors. The Government Department really knows how to use its alumni network. One of the first things I noticed about being in the program was all the job postings I was being sent regularly.
Q. Speaker DeLeo is a Suffolk alumnus. Have you encountered a lot of Suffolk alumni at the State House?
A. Whenever legislators come to speak there are always a few Suffolk alumni.
One representative told a story about why he ran for office, and he said it was because of (Suffolk Political Research Center Director and faculty member) David Paleologos. There's always a handful of people with a Suffolk connection in any State House group.
Right now I'm doing the RAMP mentoring program, and I'm matched with an alumnus who previously worked in the State House.
Q. What's it like working with a mentor?
A. My mentor is helpful because he gives the tough truths and feedback. He knows the culture at the State House, so I can ask him questions I wouldn't necessarily want to ask on the job.
You have to reach out and participate—that's how mentoring works. I would love to be a mentor in the program when I graduate.
Q. What's next for you?
A. I've always had a passion for public affairs and government, but a high school guidance counselor steered me toward business. Now I'm glad I majored in business because a knowledge of accounting, finance, and HR is a good background for a political career. My business experience, and knowing how to work with people, have helped in this internship.
I like to keep my options open. I would love to stay at the State House. I'm interested in communications and policy research. I'm also open to the government affairs field because of my business background.
Q. Do you have advice for other students who want to work in government?
A. Sit in the front at events and meetings, and ask questions. People will recognize you, and you will get public speaking practice.
Be confident in your work, and don't be afraid to ask for more projects and responsibility. It shows you want to be there. Don't be afraid to ask questions. It shows you really think about things and want to learn.
If anyone's interested in a job like mine, they can reach out to me or apply through Handshake (a Suffolk job search tool). It's never too early.