Patrick's Suffolk Story
When you think of the word 'community,' what do you think of? Is it a room full of people who like you? The family and friends who surrounded you when you were growing up? Or maybe it's the people you spend time with right now. For me, community is a verb. It's actionable, almost tangible. It includes not only people I am close to, such as friends and family, but also a stranger I may pass on the street with whom I share a smile. It's a feeling of being visible in the world, part of something larger than ourselves.
We take comfort in it because it reminds us we are not alone. Lessons are learned every day from those in our community—both inside and outside of the classroom. Beginning in elementary school, the goal of 'getting a good education' is impressed upon us as the best way to access a prosperous and happy life. However, access to a good education isn't provided equitably across society. Some people are naturally granted easy access to high-quality education based on where they live, what social identities they hold, and sometimes simply the family they were born into. Others have different obstacles, ranging from financial barriers, social barriers, or alternative learning styles that don't succeed in a one-size-fits-all educational system.
That's where the intersection between community and becoming educated lies. Everyone around you is impacting your education all the time; the key is to surround yourself with those who will support, uplift, and push you to be better. They will help you set and reach your goals. They will be there for both the good moments to celebrate in your joy and to comfort you during the challenging times.
Many students enroll in college because they have career aspirations that require a college degree. Others go because attending college after high school is the expected path among their friend group and they want to fit in with their peers.
For me it was a little different. For me, it was a form of survival, a stepping-stone to creating a life worth living for myself.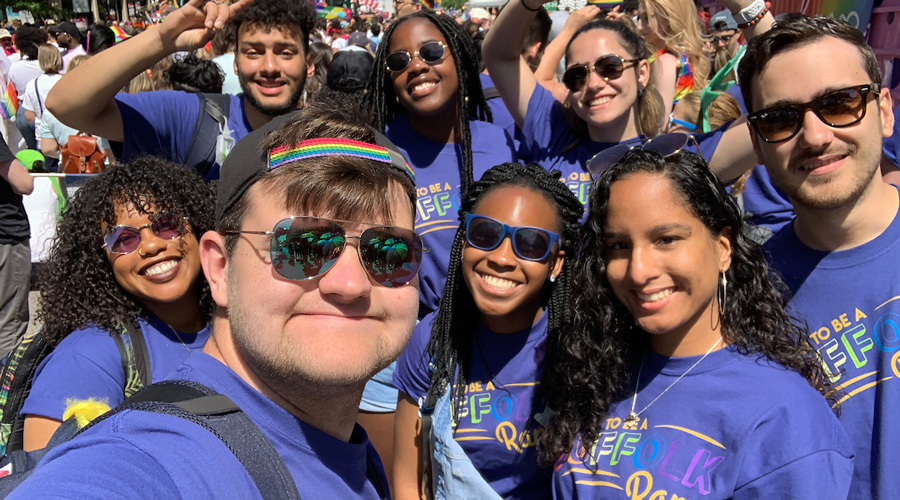 Attending college was a goal I wasn't sure I would ever achieve due to my complex relationship with education and learning. The Suffolk community helped me redefine that relationship. I was introduced to the idea of cocurricular and experiential learning through advisors and mentors who helped me navigate my own education and growth as I undertook more and more student leadership roles. They helped me be successful in those positions through their advice and encouragement to stretch myself and adopt a growth mindset as a leader. The strong connections and relationships I have made with other student leaders are the cornerstone of my undergraduate experience. It was the entire Suffolk community—in the classrooms, dorms, and apartments; the academic and student life advisors, custodians, classmates, campus security officers, and all the diverse people living, working, and walking on the streets of Boston—that enabled me to forge my own educational path.
Four years later, I don't recognize the person who walked into Sargent Hall for new student orientation ready to embark on a new journey. My time here at Suffolk has been nothing short of transformative and extraordinary. Meeting people from different walks of life adds to your experience as a learner because it opens you up to new perspectives based on the lived experiences of others. You are always going to be meeting new people, interacting with one another, and working with one another. While the form of connection might change, the human interaction is still there. This means you will always be learning, you will always be meeting new people who will help expand the horizons of what you know, and together you will be lifelong learners.
Through this mutual connection great things can happen. Change makers work together and inspire one another. Together, we can make the world great. Together is how we are going to tackle the new challenges that come our way. Together, we can address systemic inequity in all facets of life, including education—making sure that we all use what privilege or power we possess to uplift the most-often silenced voices among us. Together, we are on this journey of learning and continuing our own education—even after we reach the goal of getting our degrees or first jobs. For some of us, it might even mean unlearning and challenging our own pre-conceived perceptions that we have been socialized to believe or practice both consciously and unconsciously.
It's up to us to define our own relationships with education and learning, and to decide what we want our impact to be together. When you build a community, do it actively and with intention. Community is a verb.