Sawyer Business School
At Suffolk University's Sawyer Business School (SBS), you're steps away from life-changing internships, career connections, and Fortune 500 companies. Our classroom experiences are enhanced by our location—being in the center of downtown Boston means you'll be right in the middle of innovation and the city's financial center. 
Sawyer Business School offers both undergraduate business programs and graduate business programs. Choose from full-time, part-time, online, Saturday, and summer courses. Enjoy small classes taught by professors who bring their expertise and experience to the classroom from right here in Boston, across the country, and around the world. Endless program and degree options are all here waiting for you—take the next step today.
Excellence in business, public administration, and healthcare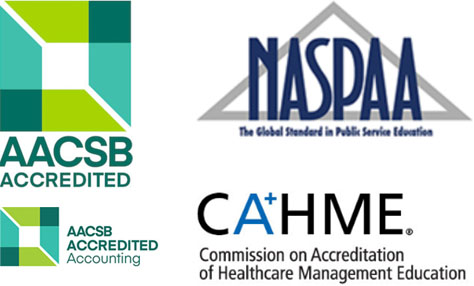 At the graduate level, our accreditations from AACSB, NASPAA, and CAHME attest to our recognized excellence across business, public administration, and healthcare programs, respectively.
We are the only US business school to hold all three of these accreditations.