Center for Entrepreneurship
Innovation is a critical skill for all organizations, regardless of size. As new technologies and new business models create opportunities to redefine industries and markets, Suffolk University brings together a community of innovators focused on value creation, value delivery, and value capture.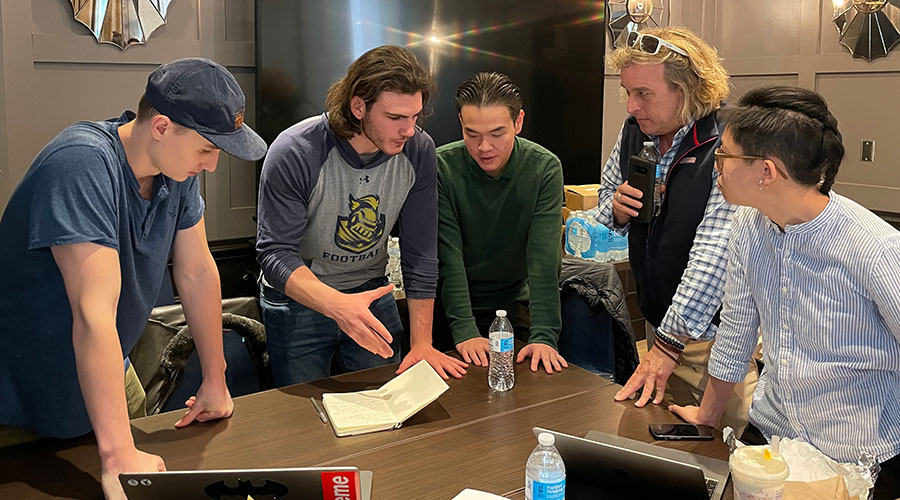 At the Design-a-Thon, students from the Blockchain Club work on an innovative approach to building community for Northeast Arc clients.
The Center for Entrepreneurship provides access to resources for students, alumni, and the general public:
Events featuring speakers at hot startups, from fintech to cannabis cultivation and distribution.
Pitch competitions that help launch new ideas.
Mentorship from corporate executives, entrepreneurs, investors, attorneys, marketers, and more.
Advising sessions with our star MBA students to develop and refine business models, marketing programs, IP protection, and more.
A central workspace where students, alumni, faculty, and business owners can collaborate.
Located at One Beacon Street, the Center for Entrepreneurship supports all academic programs, across all schools within the University – Sawyer Business School, College of Arts & Sciences, and Suffolk University Law School – to provide a variety of services for the community.
Contact Us
Chaim Letwin, Esq, PhD
Director, Center for Entrepreneurship
Director of Entrepreneurship, Associate Professor, Management and Entrepreneurship
Phone: (617) 573-8363
Send an email
Shari Worthington, MBA, PhD
Associate Director, Center for Entrepreneurship
Associate Professor of Practice, Management and Entrepreneurship
Phone: (508) 397-6345
Send an email