Message from the Dean
In the Sawyer Business School, we believe in our students. You arrive ready to work hard and focused on your career. We give you the opportunities and support to achieve your goals.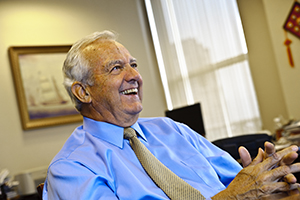 Since 1937, we have helped students just like you transform their lives. With hands-on learning, globally focused courses, easy access to downtown Boston, and expert faculty, you have the chance to turn your career aspirations into reality.
Your journey from student to professional begins here, where building your resume and network are key components of your education.
In the classroom, you'll get hands-on experience with consulting projects, where you'll solve real-life challenges and present to business executives. You'll examine case studies from real companies. You may even invent a new product or start your own business.
Outside the classroom, you'll find yourself in the heart of Boston's business community, just steps away from internship and career opportunities in the Financial District, the Massachusetts State House, the booming innovation district, and major health centers. You'll work alongside business executives, public service administrators, and innovators.
But what really sets us apart is our global focus. Whichever program you choose, you'll learn how to adapt to unique economic, cultural, political, and legal environments and discover how business practices differ among nations. You can even extend your global education beyond the classroom with a Global Travel Seminar, international internship, and study abroad experience.
Your faculty members care about your intellectual and professional journey. Working in every facet of business, they know the qualities that employers look for. They are committed to helping you develop the marketable skills and networks you need to embark on or advance in your career.
My goal for you, as a student in the Sawyer Business School, is that you gain a well-rounded education so you can become an innovative thinker who is able to take on today's global business challenges with confidence. I take pride in knowing that we are part of that process, and I hope that your commitment to learning continues throughout your life.
William J. O'Neill, Jr.
Dean, Sawyer Business School
Biography
William J. O'Neill, Jr. has been dean of the Sawyer Business School since August of 2001. Dean O'Neill brought extensive corporate experience to this role. He began his business career in the Finance Training Program at the Ford Motor Company. After Ford, he moved to the Polaroid Corporation, where he spent much of his career in the executive offices directing global strategy, worldwide marketing, sales, business development, financial management, and investor relations.
Dean O'Neill is a member of the Board of Directors for the Greater Boston Chamber of Commerce, Concord Camera Corporation, and AdvanSource Biomaterials Corporation. He has been associated with many for-profit and not-for-profit organizations and has served as Trustee for the Dana Farber Cancer Institute and the Massachusetts Business Roundtable Education Reform Committee. He is also a Life Trustee for the New England Aquarium and Lesley University.
Dean O'Neill earned his JD from Suffolk University Law School, his MBA from Wayne State University, Michigan, and his BA in Mathematics from Boston College.
Priorities
"I came out of industry and I think about efficiency, productivity, market expansion, and change," says Dean O'Neill. "I ask how do we succeed, make things better, become more competitive, and be the best in the world?"
Since his arrival in 2001, Dean O'Neill has led the Sawyer Business School toward a singular goal: to deliver a world-class business education that develops successful leaders of global business and public service.
Under his leadership, the Business School:
Established an undergraduate degree in global business management
Increased the number of faculty with global work and education experiences and the number of countries students visit in the business travel seminar program
Established an entrepreneurship resource center for students to develop their entrepreneurial spirit
Created programming that develops students' leadership qualities, networking skills, and the ability to embrace change in an organization.
Dean O'Neill's vision created a business school that teaches students the academic side of business problems and the interpersonal skills they need to succeed in business today. Graduates are prepared for a competitive marketplace and can be found working at the top levels of local companies and international corporations, as well as in government, health care, and nonprofit organizations.
Industry-specific accreditations ensure that you receive a high quality, innovative education. The Sawyer Business school is AACSB-accredited in business administration with supplemental AACSB accreditation for our accounting and tax programs. Our Master of Public Administration program is accredited by NASPAA and our Master of Healthcare Administration program is accredited by CAHME.