Message from the Dean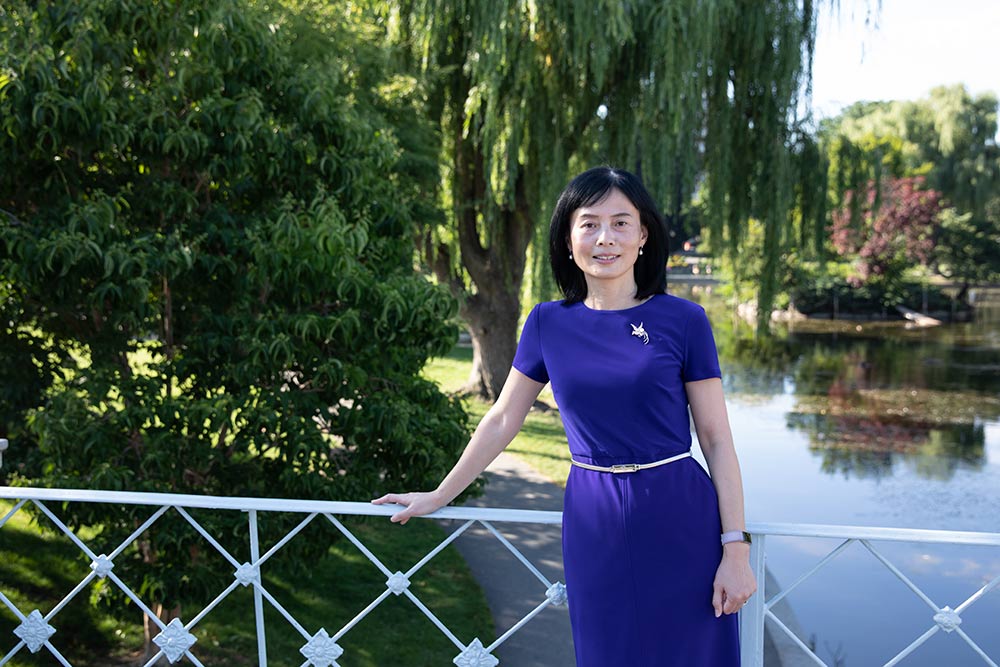 On behalf of our students, faculty, alumni, and staff, I would like to welcome you to the Sawyer Business School at Suffolk University.
Since our inception in 1937, we have offered a wide range of educational options and programs to assist people at every stage of a career. Learn more about the Sawyer Business School's unique history and our current offerings [PDF].
We provide abundant access to the benefits and opportunities of our home city of Boston, Massachusetts, while also ensuring that our graduates are prepared to succeed in a global economy. Our goal is to equip business learners with the essential skills and knowledge they need to succeed through:
Robust Academics. Our comprehensive academic portfolio allows prospective learners to customize their educational experience based on their backgrounds and needs. At the undergraduate level, we offer 11 majors and 27 minors, including our newest FinTech and Cybersecurity minors that were created to respond to the latest market needs. Our graduate programs comprise ten Master's degrees, including an Executive MBA. We also offer multiple dual degrees, certificates, and fast-track opportunities as well as four degree programs and one certificate that are available fully online.
Experiential Learning. The pedagogy of the Sawyer business curriculum includes both comprehensive in-class instruction and in-the-field experiential learning, providing students with ample hands-on and practical experiences and skills. Our expert faculty—81 percent of whom have terminal degrees—bring real-world experiences and access into their teaching. Students here gain the skills they need to hit the ground running, whether launching a career or advancing on a professional path.
Career Success. Because we're located in the heart of Boston, we've established extensive connections with businesses, organizations, non-profits, local and state governments, and more. These connections give our students access to extraordinary internship and employment opportunities, not only in the Boston area but nationally and internationally.
As our students and alumni will tell you, the Sawyer Business School—an AACSB-accredited business school—offers an unparalleled mix of academics, experience, and access to opportunities. I know you will find a program here that fits you well and will fulfill your career dreams. I look forward to welcoming you to the RAM family.

Amy Z. Zeng, Ph.D.
About Dean Amy Zeng
Dr. Amy Z. Zeng became the sixth Dean, also the first female Dean, of Suffolk University's Sawyer Business School in late July of 2020. An accomplished educator and leader in experiential and project-based learning and a recognized scholar in the fields of supply chain management and global logistics, Dean Zeng brings to the Sawyer Business School a passion for experience-based learning, cross-disciplinary and cross-sectoral collaboration, and global engagement—all of which are central to Suffolk and the Business School's approach to education.
Prior to her current position, she was the Dean of the Barney School of Business at the University of Hartford in Connecticut for two years. In that capacity she oversaw a renovation and expansion project that provided state-of-art instructional and social spaces; she established and cultivated dozens of new partnerships with corporate companies, professional associations, individuals, educational institutions (K-12 and community colleges), and international partners to expand the school's visibility, global footprint and resources; and she led efforts to revise strategic plan, career-ready curriculum, and experiential education. In addition, she helped execute the inaugural Finance, Insurance, Risk Management, and Manufacturing (FIRM) Executive Leadership of the Year Award event in 2018 and was on the advisory board for the 2019 event. Under her leadership, the two events together raised nearly $1M to support student scholarships, programming enhancements and the school's initiatives. She helped plan most part of the 2020 event before her departure from the university.
Prior to her first deanship at the University of Hartford, Dr. Zeng spent 19 years at Worcester Polytechnic Institute (WPI) in Worcester, Massachusetts, where she held numerous faculty and administrative positions. Dr. Zeng has extensive experience with corporate outreach and engagement, having advised and co-advised more than 60 company-sponsored student and research projects. With her combined education in engineering and business, she has been quite effective and adept at cultivating cross-discipline, cross-sector collaborations and partnerships. Additionally, she is a three-time grant recipient from the U.S. Department of Education; grants totaling nearly $600,000 plus the same amount of matching funds have provided a solid foundation for establishing the China Hub, WPI's largest global engagement initiative.
Dr. Zeng's research expertise lies in the areas of supply chain risk management and tactics, reverse and sustainable supply chain analysis and design, and global logistics process improvement. She has published 100+ articles, garnered 3,700+ Google scholar citations, and delivered 110+ speeches spanning a wide range of locations and occasions.
Zeng holds a PhD in Business Administration from Penn State's Smeal College of Business Administration, a master's degree in industrial engineering from the University of Washington, and a bachelor's degree in industrial management engineering from Beihang University in Beijing, China.