About - Sawyer Business School
Suffolk University's Sawyer Business School offers a rigorous business education—with purpose. The school occupies an unrivaled position at the nexus of Boston's private, public, and nonprofit sectors.

Our learners enjoy unparalleled access to the city's financial and innovation clusters, seats of government, nonprofit organizations, and world-class healthcare institutions. Leveraging our distinctive location, multidisciplinary programs, world-renowned faculty, and immersive educational experiences, we empower our graduates to become innovative change agents who positively impact society at the local, national, and international levels. Learn more about the Business School Experience.
Excellence in business, public administration, and healthcare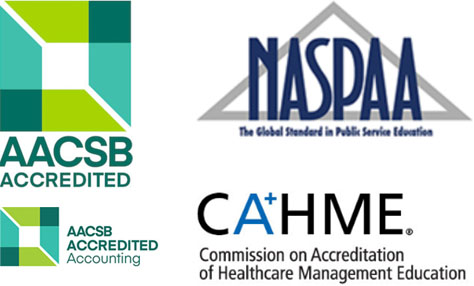 At the graduate level, our accreditations from AACSB, NASPAA, and CAHME attest to our recognized excellence across business, public administration, and healthcare programs, respectively.
We are the only US business school to hold all three of these accreditations.
Vision, Mission & Strategic Initiatives
Vision
We foster transformative experiences that cultivate global-minded citizens who advance knowledge, lead positive change, and create value for society.
Mission
The Sawyer Business School provides students a world-class business and public service education. Our engaged faculty leverages a central Boston location and fosters collaborations with local, national, and global community partners to generate high-quality scholarship and enhance the integration of classroom lessons with experiential learning. In doing so, we graduate global-minded, knowledgeable, and socially responsible professionals who embrace innovation and change.
Strategic Initiatives
On the basis of the strategic foundations noted in the Sawyer Business School Strategic Plan [PDF], as well as the evolving external context, the Business School will pursue four key strategic initiatives.
Faculty Excellence
Sustain an engaged and diverse faculty whose high-quality scholarship, teaching, practice, and influence within and beyond the classroom supports our mission and realizes our vision.
Educational Experience
Deliver a world-class transformative educational experience through leadership in experiential education among business schools, including cutting-edge programs that span functional areas.
Educational Outcomes
Invest heavily in the professional behavior and career success of our students through the mix of skills, experiences, and values instilled by the world-class education we provide, including a global mindset and social responsibility; and promote lifelong learning across the programs and services we offer to students, alumni, and our community partners, enhancing their ability to create, leverage, and lead innovation and positive change.
Brand Recognition
As a result of the previous initiatives and of effective outreach efforts, be recognized as a leading business school regionally, nationally, and internationally by our stakeholders and peers, attracting prospective students worldwide and donors from our alumni community and other support groups.
Our History
Trustee John Griffin and President Gleason L. Archer founded Sawyer Business School as a department within the College of Liberal Arts. Our first class had just two part-time faculty members and eight students. Today, we have over 100 faculty members, 3,000 students, and 27,000 alumni worldwide. We offer a Bachelor of Science in Business Administration and many different graduate degrees and certificate programs, ranging from the traditional MBA to specialized master's degrees, along with a Master of Healthcare Administration and Master of Public Administration. Named after University benefactor and entrepreneur Frank Sawyer, we remain committed to his goal of providing access to quality education in a supportive environment. Over the years, our student body has increased and diversified to include individuals worldwide. They arrive ready to work, eager to learn, and focused on career development. We help them harness their ambition to fulfill their professional goals.
Leadership of the Sawyer Business School (and its preceding units)
Donald Grunewald (1967-1969)
Robert C. Waehler (1969-1974)
Richard M. McDowell (1974-1990)
John F. Brennan (1990-2001)
William J. O'Neill, Jr. (2001-2020)
Amy Z. Zeng (Present)