Our History
The Sawyer Business School has come a long way since we offered our first accounting and business administration classes in 1937.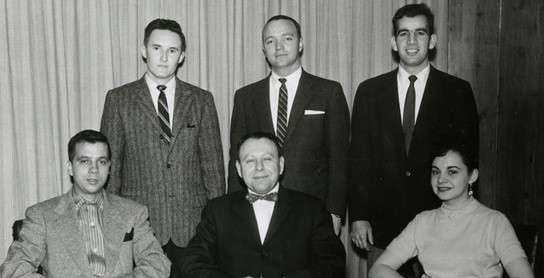 Business Club 1958
Founded by Trustee John Griffin and President Gleason L. Archer, we started as a department within the College of Liberal Arts. Our first class had just two part-time faculty members and eight students.
Today, we have more than 100 faculty members, 3,000 students, and 27,000 alumni around the world. We offer a Bachelor of Science in Business Administration, with majors in Accounting, Big Data & Business Analytics, Business Economics, Information Systems, Entrepreneurship, Finance, Global Business, Management, Marketing, and Financial Wealth Management. We also offer many different graduate degrees and certificate programs, ranging from the traditional MBA and Executive MBA to specialized master's degrees in Accounting, Finance, Business Analytics, Marketing, Management Studies, and a Master of Healthcare Administration and Master of Public Administration.
Named after University benefactor and entrepreneur Frank Sawyer, we remain committed to his goal of providing access to quality education in a supportive environment.
We embrace evolving business practices and value innovative thinkers. In 2001, newly appointed Dean William J. O'Neill, Jr., established a global focus across the school to help our students compete in a rapidly changing global marketplace.
We also value public service and have spent many years fostering strong ties to our community. We work with local and regional public agencies and nonprofit organizations like Home Care Alliance of Massachusetts, Boston Police Department, and the Massachusetts Municipal Association, to provide education and research opportunities for public servants and community leaders.
Over the years, our student body has increased and diversified to include individuals from around the world. They arrive ready to work, eager to learn, and focused on career development. We help them harness their ambition to fulfill their professional goals.
Leadership of the Sawyer Business School (and its preceding units)
Donald Grunewald
Robert C. Waehler
Richard M. McDowell
John F. Brennan
William J. O'Neill, Jr.
Amy Z. Zeng (Present)