Skip Navigation
Be a Businessperson of the World
Just because the world has gotten smaller doesn't mean that the world of business has gotten simpler.
That's why at the Sawyer Business School, the theme of global business is woven throughout our curriculum. It's an essential point of difference that will give you the global skills and world-wise knowledge you'll need to succeed, whether you start your career in New York, Hong Kong, or anywhere in between.
As an undergraduate, you're required to take global business courses.
Graduate and undergraduate students can participate in our Global Travel Seminars, which let you see other business cultures firsthand.
Half our full-time faculty are international, and they're eager to bring their professional skills into the classroom to share with you.
Similarly, many of our American-born faculty have had international work and/or educational experiences.
Boston is an international hub for finance, pharma, biotech, medicine, and hi-tech...and because of our location in the heart of the city, you'll have incredible access to all the multinational companies that have a presence here.
The advantage to all this? By time you graduate, you've become a bona fide businessperson of the world, ready to hit the ground running wherever you land.
Where to Start at Suffolk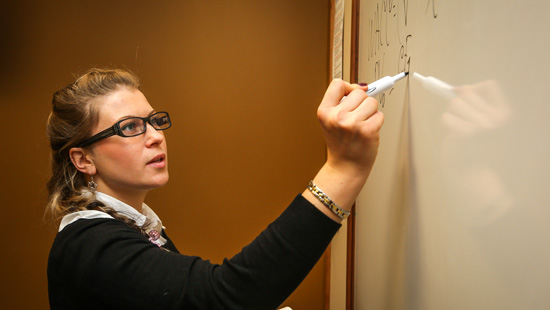 To you, data aren't just numbers, they're a calling. Binary burns in your blood. A well-organized spreadsheet is a treasure map.
If you agree with any of these statements, you'll thrive at Suffolk University. Our Sawyer Business School offers left-brainers of all kinds multiple ways to dive deep into the numbers. Our Big Data & Business Analytics major is extremely popular, with graduates going on to work at organizations as different as the Boston Red Sox and Massachusetts General Hospital. Or they stay here to get even more experience and training with our Master of Science in Business Analytics (MSBA).
Our Taxation and Accounting graduate programs can help you become a professional number-cruncher (financial advisor or accountant, to name two). And as for the Big Four accounting firms, our students find internships and jobs there all the time. What's even cooler? All four are within walking distance of campus. That's what it means to be a neighbor of the Financial District.
If you're into data, we've got your number.
Give Back to The Community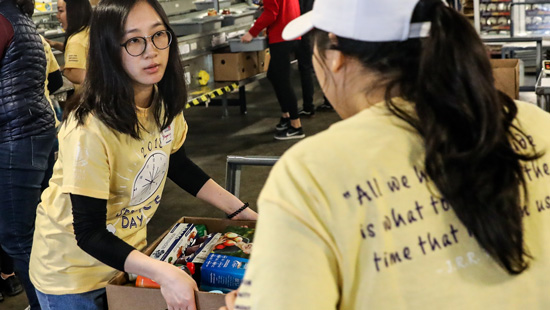 If you could go back in time, you'd see that Suffolk University was founded in 1906 with the goal of educating students who weren't as likely to be admitted to some of those "other" Boston and Cambridge schools. (You know the ones we're talking about.)
We've been committed to access and opportunity ever since and offer you so many ways to cultivate your altruistic side. Take our popular Alternative Spring and Winter Breaks, which give you the chance to do something good at sites all across the country: environmental work in the Grand Canyon; building homes with Habitat for Humanity in Mississippi, and working with the LGBTQ+ community in Washington, DC.
Closer to campus, our Center for Community Engagement can connect you with dozens of ways to help people in Greater Boston as they negotiate issues like illiteracy, food security, and homelessness. Our tax and accounting students run a Free Tax Center every winter to help lower-income neighbors and international students around Boston file their taxes. And once a year, the entire Suffolk community takes part in a Service Day to help out at multiple organizations in the city.
If helping out and doing good are in your DNA, you'll feel right at home at Suffolk University.
Improve the Health of Healthcare
Boston is often referred to as the heart of the healthcare industry. Don't just take our word for it. Our hospitals and medical centers have consistently ranked among the nation's top 10, according to U.S. News & World Report.
At Suffolk, you'll intern and learn on-site at some of the best facilities in the country. That's because our neighbors include institutions like Massachusetts General Hospital, the Massachusetts Eye & Ear Infirmary, and, for you policy wonks, the Massachusetts State House. Not only that, Boston Children's Hospital, Dana-Farber Cancer Institute, and Brigham and Women's Hospital are all a T ride away. Add in the nonprofit, biotech, and pharma industries that thrive here and you've got almost too many options to count.
Whether you're in our Master of Health Administration program, the MBA/Health program, or the MPA Community Health program, you'll learn from and work with expert faculty, all of whom have vast experience (and connections) in the industry. On top of that, we offer travel seminars, an incredibly robust mentor program, and multiple chances to network with healthcare professionals from around the world.
Live (and Learn and Work) in the Big City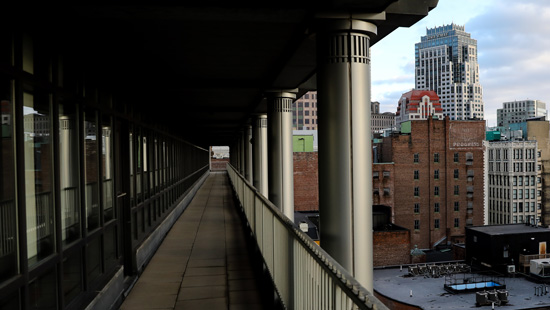 More than just about any university in the country—even the ones based in major cities—our university is truly woven into the fabric of our city.
Walk outside your Suffolk dorm or classroom, and you're surrounded by skyscrapers, restaurants, public transit, parks, museums, and everything else that makes Boston great. We don't have a college green: we just relax in Boston Common.
Want to catch the Red Sox, Celtics, or Bruins? You can walk or take the T. (All of Boston's subway lines run within steps of campus.) Eager to live off campus? Try the North End, with its warren of charming streets and Italian heritage. Or check out East Boston, just a short T ride away and overlooking Boston Harbor. Or live in Back Bay, with its world-class shopping, stately promenades, and stunning views of the Charles River.
But Suffolk isn't just about living in the big city. Our location in the heart of Boston also means you have countless opportunities to find an internship or two, start a job, and build a career no matter what you major in. Especially now, thanks to its booming economy, Boston is one of the places to be in your 20s. (And 30s. And 40s. And beyond.)
If you're excited to be on your own and living the city life, you can't do much better than Boston and Suffolk University.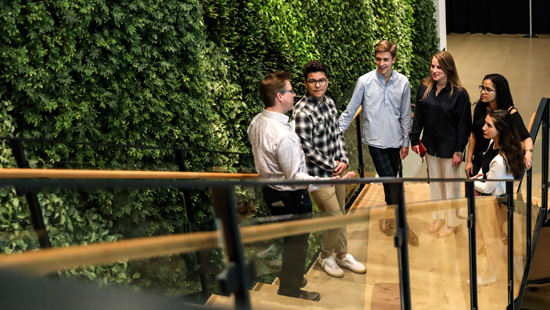 Do you yearn to work in an advertising agency or a marketing firm? Do you really want to learn the business side of the biz and really get into the minds (and wallets) of consumers as a market researcher or account executive?
Either way, Suffolk can help connect you with players in Boston's marketing market. Our robust curriculum will teach you how to do marketing research, create consumer surveys, crunch data, and present to real clients. Speaking of presenting, current students have recently partnered with companies like Sonos, George Howell Coffee, and Roche Bros. Supermarkets to conduct research and share their findings with top execs. Thanks to this blend of classroom and experiential learning, you'll find our alumni working in name-brand organizations like Bloomberg, PBS, Arnold Advertising, and many more.
And if you're looking to get even more experience and knowledge, check out our Master of Science in Marketing.
If you're equal parts creative and strategic, you're our demographic.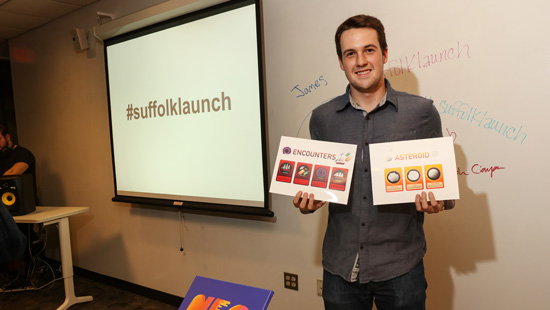 Don't just think like an entrepreneur. Become one.
Got a big idea? Learn how to develop and launch it. We'll give you the tools to thrive as a creator. We're uniquely qualified to help budding Shark Tankers start on the road to success. Our entrepreneurship program and Center for Entrepreneurship are like on-campus incubators, helping students figure out, develop, and execute their innovative ideas.
Here on campus and throughout the hot-as-the-sun Boston innovation sector, there are competitions throughout the year that award hundreds of thousands of dollars in seed money. Our faculty are tapped in and can give you access to mentors, industry contacts--and maybe even an angel investor or two. We even have one of the only crowdfunding courses in the nation. One recent graduate now sells his product on Amazon and was just chosen for the prestigious Mass Challenge accelerator.
Whether you've been working on your secret idea for years or have no idea what you want to create/build/sell/design, Suffolk can be your launching pad.
Where to Start at Suffolk