Master of Healthcare Administration (MHA)
Do you have a head for business and a heart for healthcare? The Suffolk MHA program aims to inspire students who are passionate about healthcare and want to improve the health of individuals and communities. Our program provides the highest quality teaching, scholarship, mentoring, and engagement in the healthcare community. Learn about—and be a part of—Boston's dynamic world-class healthcare industry with a Suffolk MHA.
FULL-TIME | PART-TIME | ONLINE
While earning your MHA at Suffolk, you'll:
Learn from healthcare industry experts who are a mix of recognized scholars who integrate their research into their courses, and practitioners who draw from their extensive leadership and management experience
Study from a curriculum that aligns with professional practice, and gain essential knowledge and skills in key areas for the evolving healthcare industry
Have opportunities to gain hands-on experience in key areas for the evolving healthcare industry
Connect with healthcare organizations in and around Boston and the Suffolk alumni who work there, and generate opportunities to develop your career
Take courses, either on campus or online, to meet your schedule needs and maximize your learning.
Whether you're a healthcare professional seeking to advance your career or someone who aspires to become a healthcare professional, the Suffolk MHA gives you the specialized knowledge and skills to succeed in today's competitive healthcare environment.
MHA Program Overview
Suffolk's Master's in Healthcare Administration
Our MHA Program focuses on critical areas of healthcare administration by providing an understanding of the dynamic healthcare environment, how to make informed decisions on critical healthcare issues, and how to utilize big data for healthcare management. Strengthen your capabilities to advance your career, achieve your goals, be an active participant in the healthcare community, and gain the knowledge and skills for effectively managing people, projects, and organizations.
Suffolk's MHA Program is the only MHA program in New England that's accredited by the Commission on Accreditation of Healthcare Management Education (CAHME). This accreditation attests to the scope, quality, and continuous improvement of the education you will receive.
MHA students can complete their degrees in as few as 16 months full-time, 20 months part-time, or 28 months online. MHA graduates go on to pursue rewarding and successful careers as managers and executives across the full range of healthcare delivery organizations.
Curriculum & Coursework
Learn about the MHA curriculum, program length, and waiver and transfer policies. View this information for the MHA Program.
Program Teaching & Learning Methods
MHA courses use a variety of methods, depending on the nature and educational level of each course. The methods include: assigned readings (books, articles, reports and scholarly papers), lectures and facilitated conversations by professors and guest speakers, video viewing, writing papers and completing exercises, in-class presentations, case analyses, group projects, simulations, developing strategies and action plans, visits to healthcare organizations, internships in healthcare organizations, reflective learning, online coursework and exams.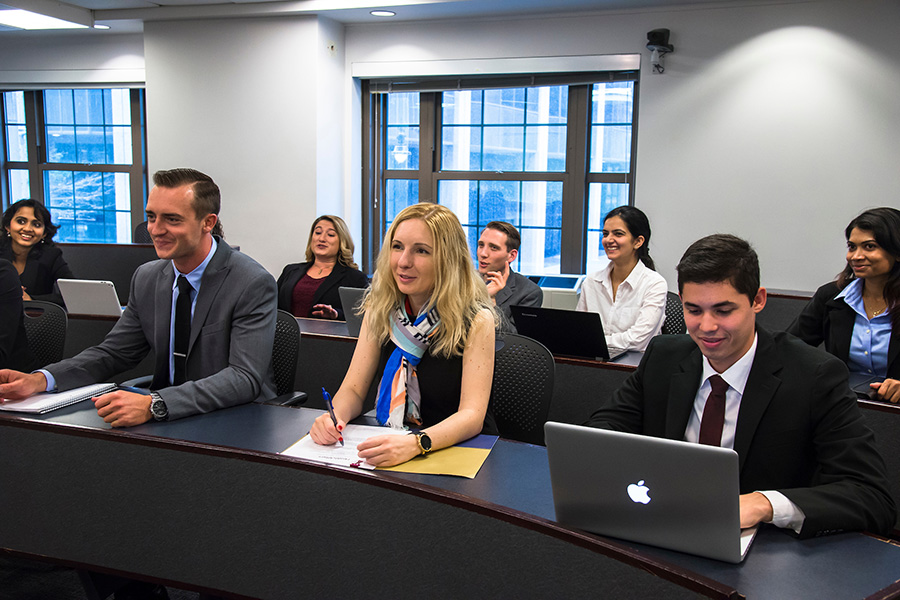 Program Evaluation & Grading of Student Performance
A student's grade in each course is based on his or her performance on the graded assignments, including class participation. View the grading methodology.
Advising & Other Resources
Suffolk University offers graduate students—incoming, current, and alumni—help with navigating financial aid and payments, searching for career opportunities, and building a strong professional network. Our Graduate Student Services team supports you every step of the way with various services including application advising, financial aid counseling, international student resources, and other resources such as the Career Development Center or the Center for Learning and Academic Success. We also offer you value-added professional development workshops to bolster your experiential education and other professional skills while studying at Suffolk University.
Applying to Suffolk's MHA Program
Program Admission Philosophy
Suffolk University seeks to admit qualified individuals who are pursuing, or seek to pursue, a career in healthcare management. The University welcomes applicants who have experience in healthcare management, as well as applicants who seek to enter the healthcare field. Every application is reviewed in its entirety, so that all relevant aspects of an applicant's previous performance and future goals are taken into consideration.
Admission Process & Criteria
Applications for admission to the MHA Program are reviewed by an Admission Counselor in the Office of Graduate Admission, the Director of Programs in Healthcare Administration, and the Chair of Healthcare Administration Department.
They review the following aspects of, and apply the accompanying criteria to, each application:
An applicant's undergraduate and, where applicable, graduate school grade point average(s), with an expected level of 3.0 or above for both. Special attention is paid to an applicant's grades in his or her major area of study (and whether the major area of study changed) and in the first two years and last two years of undergraduate school, noting any significant differences in performance.
The nature and extent of an applicant's professional work experience, in healthcare or another field, and other activities (e.g., extracurricular activities in undergraduate or graduate school, and volunteer positions in community and/or professional organizations), as presented in a professional-quality resume. Professional work experience is desirable but not required. New college graduates are accepted for admission.
The content and presentation of an applicant's statement of professional goals – specifically, the reason(s) why an applicant is pursuing or seeks to pursue a career in healthcare, an applicant's short-term and/or long-term goals for a career in healthcare, the reason(s) why an applicant seeks to attend Suffolk University's MHA Program, and the overall quality of the writing--i.e., ability to articulate a compelling story as well as presentation, in terms of sentence structure and spelling, grammar and punctuation.
The strength of the two letters of recommendation – specifically, how well and for how long the recommenders have known an applicant, an applicant's strengths and weaknesses within the context of specific types of academic and/or professional situations, and to what extent the recommenders attest to an applicant's ability to succeed in graduate school and his or her chosen career.
For international applicants: the TOEFL scores, with a minimum total score of 80 and 17 or above in each subsection, or the IELTS scores, with a minimum score of 6.5 or above overall and no sub-score below a 6.0.
The strength of an applicant's presentation of self, if a personal interview is conducted. This includes the ability to describe his or her background, the reason(s) why he or she is pursuing or seeks to pursue a career in healthcare, his or her goals for a career in healthcare, and the reason(s) why he or she seeks to attend Suffolk University's MHA Program.
The nature and quality of an applicant's writing, if samples of written work (e.g., academic or professional papers) are requested. Criteria for review include the ability to present a thoughtful and coherent story as well as the ability to write properly, in terms of overall structure, sentence structure and spelling, grammar and punctuation.
Standardized test scores for the GRE or GMAT are no longer required for the MHA Program because they were not found to be accurate indicators of an applicant's capabilities to succeed in the MHA Program.
Application Deadlines
Fall Semester: July 15 (International Applicants), August 15 (Domestic Applicants), then rolling
Spring Semester: December 1 (International Applicants), January 4 (Domestic Applicants), then rolling
Learn about the advantages of priority applications.
Note: Deadlines may differ for applications to the Online MHA Program.
Application Materials
Completed application
$50 Application Fee (waived for students who visit campus)
Unofficial transcripts of all post-secondary work. Admitted students enrolling in the program will need to have official transcripts, including proof of degree conferral, on file prior to their first class
Resume
Goal Statement (essay)
Two Letters of Recommendation (learn more)
Official GMAT or GRE scores are not required
Official TOEFL, IELTS, or PTE-Academic Scores (international students only)
Cost of Graduate School at Suffolk
| | |
| --- | --- |
| Tuition (2020-2021) Full-Time, per year | $36,390 |
| Cost Per Credit (2020-2021) For Part-Time students | $1,213 |
Financial Aid for Graduate Study
Suffolk University is pleased to offer both merit- and need-based financial aid to graduate students—these awards can be up to $20,000 per academic year. Merit-based aid is awarded based on the applicant's academic credentials presented on the admission application. No separate application is required for merit consideration.
Courses & Requirements
Learn more about the classes, requirements, and different options available to complete the program.
Healthcare Administration Information Request
Loading...