Celebrating Four Major Milestones
MBA, MPA, MHA, and MSA all observe key anniversaries at Suffolk Weekend soirée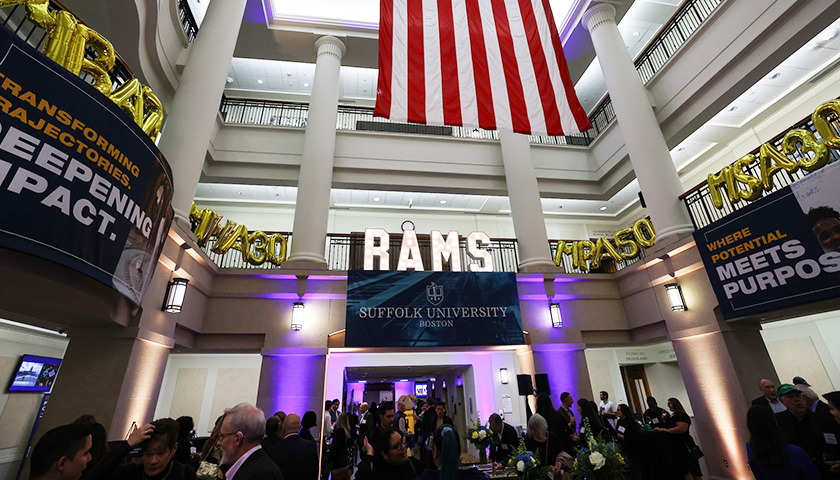 It was one of the marquee events of this year's Suffolk Weekend. Four of the Sawyer Business School's graduate programs threw a party to commemorate their birthdays: MBA 75, MPA 50, MHA 30, and MSA 30.
Hundreds of alumni, faculty, faculty emeriti, and students gathered in Sargent Hall to enjoy incredible food—including Greek fare provided by alumni-owned Saloniki—taste a signature cocktail with cranberries and hard cider called "Berried in Success," and reconnect with each other as only fellow Rams can do.
President Marisa Kelly and Dean Amy Zeng shared their thoughts on the continued success of the Business School and the University. Rammy posed for selfies. And a roving magician entertained party goers. Attendees raved that the event was a massive success and a wonderful start to the weekend.
"One thing I think we can all be proud of in the Suffolk community is the commitment of the faculty, staff, and the leadership of the Sawyer Business School to continue to innovate," said President Marisa Kelly, "to continue to pay attention to what's going on in the world and be sure our programs are evolving to help ensure our graduates are ready for the changing world into which they graduate."
Dean Amy Zeng outlined the Business School's new messaging, which focuses on immersive learning, integrated expertise, and business with purpose. "We have been a force for good for several decades," she said. "We are a business school that talks not only about profit, but also planet, people, and policy. We want our students to be well rounded and make a positive impact."
The highlight of the evening for most people was simply the chance to see old friends. "The celebration made me proud to be a Suffolk alumna and excited to remain engaged with the University in the future," said Olivia Curreri, MBA '23. "I really enjoyed the chance to catch up with fellow alumni, students, and faculty alike. Also loved hearing from President Kelly and Dean Zeng about what's to come for the Sawyer Business School."
See images from the Anniversary Soirée.
Contact
Greg Gatlin
Office of Public Affairs
617-573-8428
Ben Hall
Office of Public Affairs
617-573-8092