Travel Seminars
Are you ready to work alongside senior-level executives from all over the world?
Whether you're an undergraduate or graduate student, enrolling in a three-credit Global Travel Seminar is a chance to build your resume and extend your network internationally. You'll spend seven to ten days visiting immersed in global business. Past destinations have included Germany, China, India, Israel, Brazil, Greece, Las Vegas, San Francisco, New York City, and England.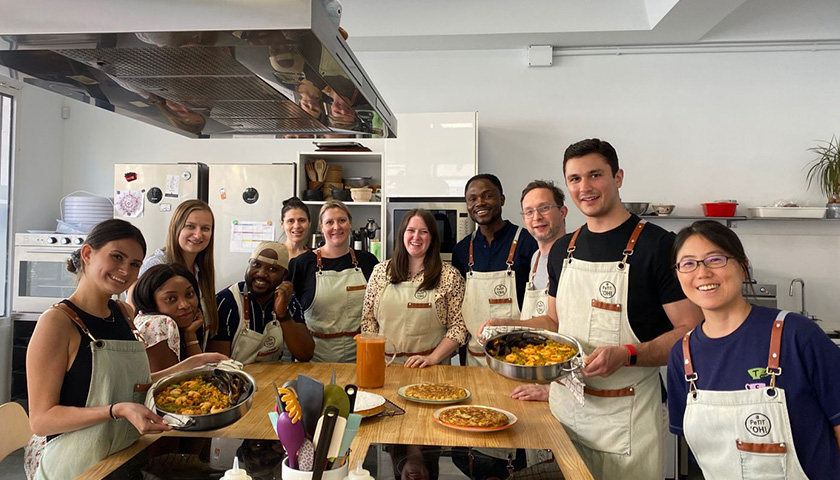 Benefits of a Travel Seminar
Connects classroom learning with real-world experience
Firsthand exposure to international business issues and concepts
Network with students, faculty, and global business leaders
Adds a line to your resume that helps you stand out
Experience with a new culture
Applicable to both your education and your career
Important Notes
Please note that registration priority will go to those students who need the seminars in order to graduate on time.
Students who have schedule flexibility should look into travel seminar options in the spring of 2023.
Registration will remain open until class is full.
Limited seats are available and are on a first-come, first-served basis.
Undergraduate Students
Any students in the Global Business Major looking for opportunities that satisfy the travel requirement should contact the Undergraduate Programs Office at 617-573-8345 or the Center for International Programs and Services at 617-573-8034 for more information.
Graduate Students
Whether it's on-site or virtual this experience will stand out on your resume, letting potential employers know that you're ready to take on global opportunities and challenges in a business setting. The Travel Seminar is a required course for MBA students, but can be taken as an elective in many other programs.
Academics
Each undergraduate and graduate Global Travel Seminar is uniquely crafted by the faculty leader, so no two are exactly alike.
Each seminar counts as a three-credit international business course. As part of the academic requirement, you'll participate in three pre-travel class sessions and one post-travel class session.
Pre-travel Class Sessions
Before the trip, you'll have three class sessions with your faculty advisor, where you'll discuss your site visits and learn about:
The destination's economy and its competitive position in the global marketplace
The political, social, and cultural environment
Current business issues within the destination
The unique cultural aspects of doing business in the destination
Post-travel Class Session
In the last class session, you'll present your main seminar project. The final project, determined by your faculty leader, could be a paper, presentation, or group assignment.

Travel
Experiencing global business firsthand is a key component of the seminar. You'll spend seven to ten days engaged in a series of field visits and cultural activities designed to immerse you in the business culture of a destination. If you choose to enroll in a virtual travel seminar, you'll engage remotely in these same activities and gain valuable experience in remote global collaboration.
Field Visits
You'll visit a variety of businesses, ranging from the headquarters of large, multinational corporations to small, entrepreneurial firms. Other potential visits could be to local institutions, such as stock exchanges or regulatory authorities, or you could meet with government leaders or academic experts.
Our students have visited companies, such as 3M, the Bank of England, Bayer, BMW, Bombay Stock Exchange, Bovespa, Citigroup, Coca Cola, Embraer, GE Financial Services, Lenovo, Lloyd's of London, Lufthansa, Microsoft, Natura, State Street Global Markets, TV Globo, Volkswagen, the World Trade Organization (WTO), and Zambon.
Cultural Activities
Understanding the local culture is an important element of the Travel Seminar and essential for success. You'll experience a variety of cultural activities, including sightseeing and city tours, visits to museums and historical landmarks, theater performances, and group dinners featuring authentic cuisine. You'll even have some free time to explore on your own.
Cost
There are three cost components for most Travel Seminars:
Tuition for three credits
Flight (exceptions may apply)
Seminar fee, which includes:
$35 application fee
Hotel accommodations based on double occupancy
Ground transportation within destination
English-speaking tour guide
Cultural activities
Business programming
Some meals, including welcome reception and farewell dinner
$160 comprehensive health insurance and emergency assistance

Where applicable, this will appear as a separate line on your bill
See seminar fees for Graduate Travel Seminars
See seminar fees for Undergraduate Travel Seminars
Contact Us
For more information, or to ask any additional questions beyond what is found on this page, please email us.