Undergraduate Travel Seminars
"When you're physically there, all of a sudden, everything you learned in the classroom matters, and it gives you a sense of relevance" – George Moker, faculty advisor for Italy.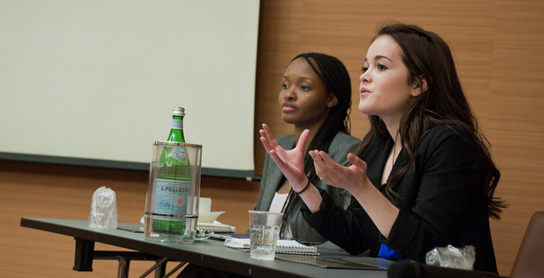 Your pre-travel classroom sessions will help you get the most out of your experience abroad. You'll learn the ins and outs of the businesses you'll be visiting.
Once you arrive, you'll be prepared to meet with business leaders and learn how their business operates across national borders. Executives will also share some of the unique challenges and opportunities of having a global business.
Cultural awareness and sensitivity is a big part of global business. Immersed in a new culture, you'll learn how to interact and communicate with people who come from different backgrounds.
The best time to enroll in a Global Travel Seminar is during your sophomore or junior year. By then, you'll have a strong foundation in business and you won't be preoccupied with graduation and job searching.
Contact the Undergraduate Programs Office at 617-573-8345 to see how a Global Travel Seminar fits into your program of study. Global Seminars satisfy the Travel Requirement for the Global Business Major.
Spring 2019 Seminars
Location: Shanghai & Beijing, China
Time: May 2019
Professors: Chrisy Yao and Nancy Feng
Seminar Fee: $3,000
The population of China is an impressive 1.34 billion and growing. There are more than 1.1 million millionaires in China, ranked third in the world. The Chinese market is booming, but firms need to face and adapt to the cultural, economic, and political realities in China. How do we understand these markets?
What to Expect
Interact with executives during site visits to major corporations.
Understand the economic and business environment in China, including historical, cultural, political, and social influences on business practices
Examine the unique legal and ethics practices in the Chinese business environment
Study the challenges and issues of business in China.
Identify the innovation and adaptation of foreign companies in China
Visit historical sites, including the Great Wall of China
Entrepreneurship in Israel
Locations: Tel Aviv & Jerusalem
Time: Spring Break 2019
Professor: David Hartstein
Seminar Fee: $2,700
Israel is one of the world's global leaders. It has the second-largest number of start-up companies in the world and the largest number of NASDAQ-listed companies outside of North America. Israel is an ideal destination, as it is uniquely positioned at the crossroads of the European and Asian Markets.
What to Expect
Meet with influential business leaders
Learn about the internationalization of consumer product markets
Identify opportunities for innovation and entrepreneurial activities across consumer markets
Visit large multinational businesses and start-ups
Develop a breadth of knowledge about international business in Israel, including knowledge of the state and development of the economy, common business organizational forms, and common business practices.
Float in the Dead Sea, visit Nazareth and Masada, and explore Jerusalem
Design and Entrepreneurial Thinking in Italy
Locations: Rome, Florence, and Milan, Italy
Time: Spring Break 2019
Seminar Fee: $3,100
Italy is the 10th-largest economy in the world and the fifth-largest in Europe, with Milan representing the country's financial and industrial centers and Rome its historical center. It has an out-sized impact on design globally.
What can we learn about design and entrepreneurial thinking from Italian businesses? What are the societal, political, and business challenges they face? How do they differ from the United States? Imagine the impact on startups and small organizations. This course will contrast those differences.
What to Expect
Study local startups, small businesses, and family businesses
Learn how to think with a design and entrepreneurial mindset
Examine the business models, sources of capital, competitive advantages and disadvantages, and major markets of Italian entrepreneurs and entrepreneurial ventures
Identify the challenges facing Italian firms and entrepreneurs in a unified Europe and a globalizing world
"In one week, I learned how to be a successful business person. There is a large part of me that wishes the week never ended. I formed relationships with incredible people and gained so much knowledge in such a short time. Going forward, I know I will reference the lessons learned from this incredible experience, and this will definitely remain a highlight of my young adult years"
Adrianna Garrett
BSBA 2015