Alternative Break Programs
During their winter and spring breaks, Suffolk students join communities across the country and abroad in addressing critical issues such as affordable housing and poverty, racial justice, and LGBTQ+ rights. Through these experiences, students learn the importance of being active and engaged citizens, develop leadership skills, and cultivate a commitment to service that they bring back home to Boston.
Suffolk Serves During COVID-19: Alternative Service Programs
Due to COVID-19 and limitations on travel, our alternative break programs will look different this year. However, you can still serve by joining Suffolk Serves: Alternative Service Programs.
Alternative Spring Community Service Program
Still want to serve this spring semester? Join the alternative to Alternative Spring Break (ASB).
Our student leaders have worked to design an alternative spring community service program that offers a meaningful and impactful experience for our students and local Boston community partners. This program will be all virtual and begin the week of February 22.
During the program, our student leaders will guide you through a Community Organizing Institute, explore social issues impacting our Boston community, and lead you through a local, multi-week community service project, in a once-weekly meeting format throughout the Spring semester.
Applications are now open. Apply now.
Alternative International Service Program
Interested in volunteering internationally? You can still learn and serve internationally during COVID-19! Join us for our Alternative International Service Program.
Virtually meet our international community partners in Southeast Asia, learn about the history and culture of Cambodia and Myanmar, and work on a fundraising project to help provide much needed support to our partners during COVID-19. More information and schedule of programs forthcoming.
Interested? Join our mailing list for updates.
Have questions about either program? Contact Dennis Harkins, Assistant Director via email.
We plan to resume both travel programs as soon as it's safe to do so.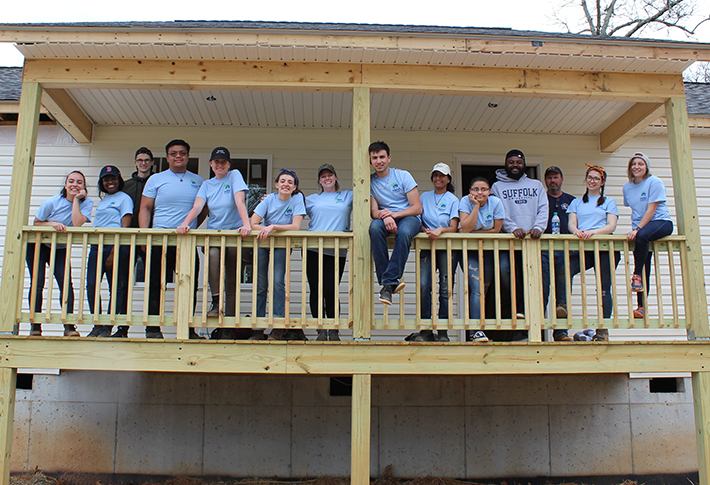 2019 ASB team in Meridian, MS, serving with Habitat for Humanity of Lauderdale County.