Our campus is anything but traditional.
When you visit Suffolk University, you'll see more than our campus buildings. You'll get a sense of everything you can do here and just how close you'll be to all the opportunities Boston's famous for.
Our academic buildings and residence halls boast some of the best addresses in town. This real estate will have a real impact on your academic, professional, and social life.
It's easy to do everything when you learn and live this close to it. On your visit, you'll hit the ground walking—getting to know the city streets and campus routes you'll take from your residence hall to your classes and club meetings, internships, and nights out on the town with friends.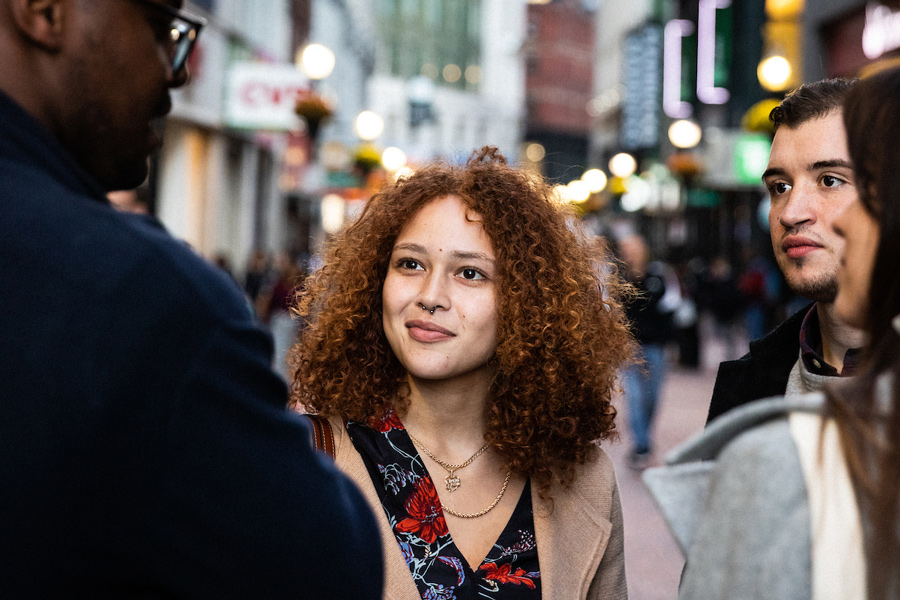 Choose the visit option that works best for you, and come see the Suffolk experience for yourself! You can also explore our campus virtually using our interactive campus map and chat with one of our current students.
We look forward to welcoming you.
Due to the COVID-19 pandemic, we have adjusted our visit options to facilitate safe experiences for you and your family. View our Wayfinding brochure [PDF] for more information.
Ways to Visit Suffolk in Person
Although not required for admission, an interview gives you the opportunity to meet one-on-one with a representative from the Office of Undergraduate Admission. You will have an opportunity to ask questions specific to your interests and gain a better understanding of the University. The interview also helps our staff make a more informed admission decision.
Stop by our Welcome Center for a guided map of our Downtown Campus. The map will include point-by-point descriptions of what you'll see on campus along with information about our academic offerings, student life, residence halls, and performance spaces.
Our campus buildings are currently closed to walk-in guests. To get an in-depth look at our amenities, be sure to check-out our virtual interactive map or schedule a guided virtual tour with one of our Ambassadors.
Join us for a hybrid-tour of our Downtown campus! You'll have the opportunity to learn first-hand how current students take advantage of their academics, extracurricular involvement, and the city of Boston to learn the necessary skills to succeed. Due to current COVID safety policies, we are unable to go into some building including Residence Halls.