School Counselors
To our school counseling partners: On behalf of the faculty, staff, and students at Suffolk University, thank you for all you do. The guidance you provide during the college selection process is so valuable—and we look forward to our continued partnership.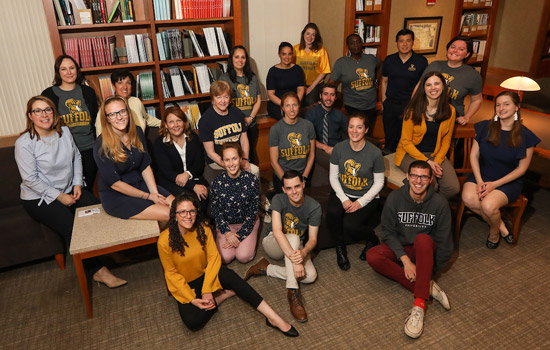 Things You May Not Know About Suffolk
Suffolk educates 5,117 undergraduate students who represent 47 states and 98 countries
95% of incoming freshmen received financial aid
We have a campus in Madrid, Spain, that offers students a unique academic and cultural experience
We have 19 varsity sport teams at the NCAA DIII level
New majors include Law, Business Economics, and Big Data & Business Analytics, with more to come
The Honors Program provides Suffolk's most highly qualified and promising students with an unparalleled opportunity for growth and achievement. More than 200 students enroll in this (invitation-only) program each year
And that's just the beginning! Please contact me via email or phone if you want to learn more, have questions, or are going to be in the area. Best of luck this school year, and thank you again or your partnership.
Sincerely,
Donna Grand Pré
Vice President for Admission & Financial Aid
617-573-8460