Finding Balance at Bose
A Master's in Finance from the Sawyer Business School is the foundation of a leadership role at the audio equipment designer.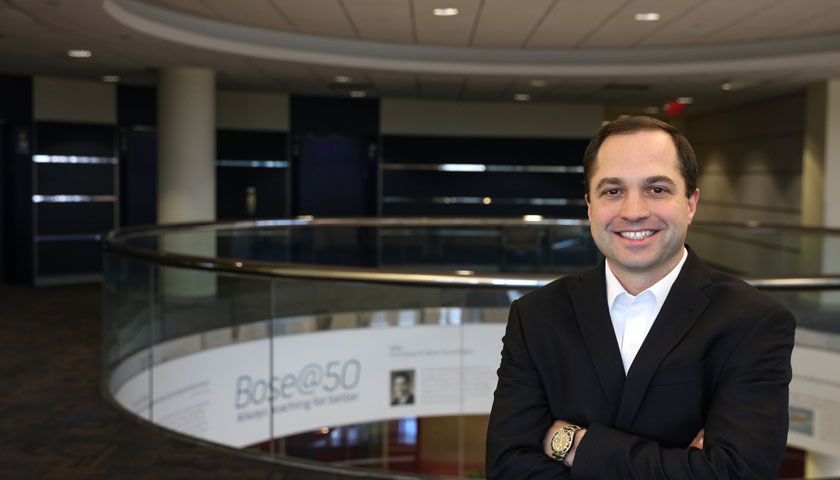 Imagine heading off to run Asia Pacific Operations for your company—and knowing virtually nothing about operations. All you have to draw on is your master of science in finance from Suffolk.

That's just what happened to John Brosnahan, BSBA '94, MSF '97. Bose, his longtime employer, put him in charge of operations across its Asia-Pacific region, which actually includes any part of the world that isn't the Americas or Western Europe.

During his five-year stint, Brosnahan filled a couple of passports and racked up millions of frequent flyer miles jetting to Asia, Australia, Africa, India, and the Middle East—all while living in Massachusetts and raising three young children with his wife.
"It was the first time I was put into a leadership role where I couldn't do any of the jobs reporting to me," Brosnahan said. On his first day in the operations role, for example, a retail designer showed him some CAD drawings for a new store in Kuwait and asked for input on the layout of the space. "I said, 'I don't actually know how to read CAD drawings,'" Brosnahan recalls.
But he didn't panic. Instead, he learned how to read CAD drawings…and understand store design and supply chain and customer service and IT and logistics and everything else you need to know to run a high-end retail operation.
"Most importantly, I taught myself how to help lead people when I can't do their jobs. I just need to step back and make sure that they can effectively do what they need to do," Brosnahan said.
After successfully building Bose's Asia capabilities, Brosnahan now serves as director of business and finance navigation. That means overseeing a team that helps the company understand the implications of its decisions from both a business angle and a financial angle.
"I have people who sit on the embedded leadership teams and act as trusted advisers on how to make the best decisions for the corporation," Brosnahan said. "It's very much big picture and very strategic." In other words, he now gets to combine his financial training with his operations experience to give insight across all areas of the company.
Giving Suffolk insight, too
Having a practical, pragmatic approach to business is something Brosnahan picked up during his time at Suffolk. Indeed, it's one of the reasons he came to the Sawyer Business School for his MSF in the first place.
"I had a choice of other local universities but really appreciated the mix of practical and theoretical discipline that the Suffolk faculty brought to the program," Brosnahan said. "It got me excited not only for the program but also for staying involved afterwards."
That involvement includes serving on the MSF Advisory Board, coming back to Suffolk to guest lecture a few times a year, and helping the Business School understand more about what companies are looking for from new graduates.
"How do I take Bose's needs as a company and say to Suffolk: 'As you're thinking about academic program development, make sure you're training for the types of things we face in the business world today'?" Experience with big data, risk management, global management, and even artificial intelligence are at the top of that list.
During his guest lectures, one piece of advice Brosnahan gives to Suffolk students is to embrace the unknown—the same lesson he learned firsthand in Asia.
"One reason people succeed in their careers is having the ability to deal with ambiguity," he said. "That's particularly true for financial professionals who want to help a business avoid risks and obstacles along the way."