Exactly Where She Wants To Be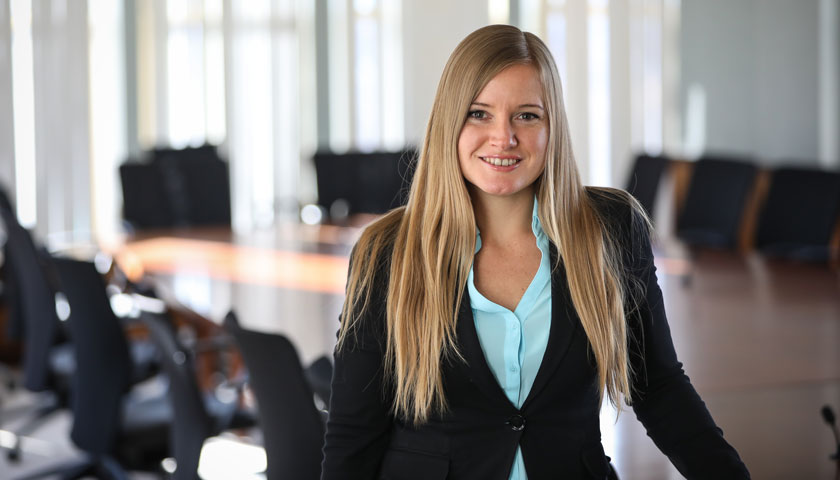 Imagine you have to create a marketing plan in a country where more than 500 languages are spoken. How does that work?
That's exactly the kind of challenge Rebecca Barnett, BSBA '10, MBA '14, was looking for when she came to Suffolk for her MBA—and exactly what she found during an internship in Lagos, Nigeria.
"The number one thing I wanted was to be an international marketer," Barnett said. "That's really why I chose Suffolk, because I wanted to have those international work experiences."
During the internship with a mobile payment processor, Barnett created marketing plans for African mobile wallet providers and helped prepare international product launches for global merchants looking to enter Nigeria. Her role evolved into a full-time marketing manager position; from there she got a promotion to become director of marketing for Sub-Saharan Africa.
"Nigeria was one of the most impactful and exhilarating experiences, both personally and professionally. Still, I wanted to continue to grow and work for a multinational brand," Barnett said.
So she transitioned to a marketing position with TD Securities, working in an international role for one of the largest banks in North America. She now creates fiscal marketing plans and oversees USA marketing activities for the bank's Foreign Exchange. Projects have included marketing the launch of TD Foreign Exchange Centers in New York City and assisting with creating a multi-channel marketing campaign for the precious metals investment product in Canada.
"I figured the MBA was going to take my career to the next level, and it really did. Not only did it give me that international experience I was looking for, it led to a career change and new opportunities beyond what I envisioned."
Contact
Greg Gatlin
Office of Public Affairs
617-573-8428
Ben Hall
Office of Public Affairs
617-573-8092