5 Unexpected Finds From Suffolk's African American Literature Collection
Rare and unusual items and topics among the Clark Collection's 5,332 volumes.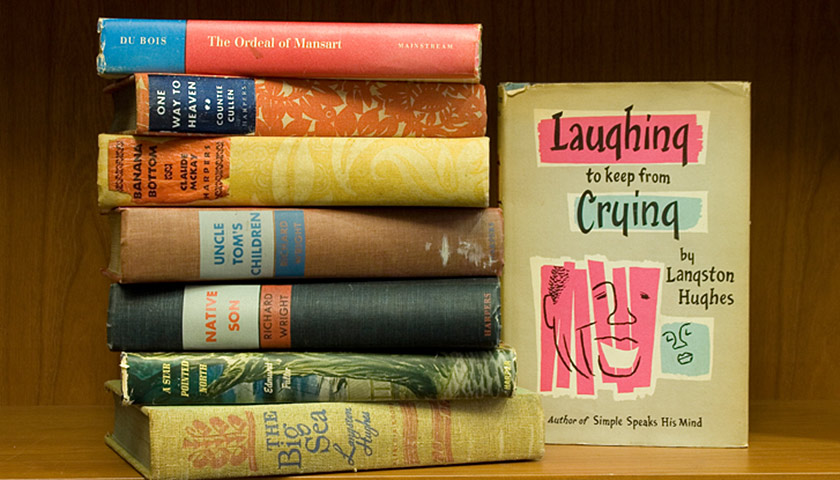 The Clark Collection of African American Literature at Suffolk University features works by and about African American writers from the 18th century to the present. Housed in the Sawyer Library, the collection contains more than 5,000 titles, representing 15,000 authors and artists. The holdings range from oral histories and personal essays to poetry, musical lyrics, drama, and fiction.
The collection contains some rare gems, along with highly specialized subject areas. The collection's director, History Professor Bob Bellinger, and Sawyer Library director Sharon Britton shared a few highlights:
A first edition copy of W.E.B Du Bois' seminal work The Souls of Black Folk. This 115 year-old tome is in the library's rare book room alongside early editions from poet, novelist, and playwright Paul Lawrence Dunbar, poet Countee Cullen, and Harlem Renaissance writer Langston Hughes.
A special focus on New England writers of color is a central part of the collection. The library maintains a separate bibliography to catalog the works of black writers from Massachusetts and neighboring states, including well-known figures like Du Bois, Frederick Douglass, and Henry Louis Gates, Jr. -- as well as more obscure works like the memoir of Mamie Garvin Fields, a chambermaid and dressmaker who lived in Roxbury during the early 20th century.
A complete series of The Monthly Offering, an abolitionist periodical published in Boston from 1940-42, is among many journals and publications available.
Unpublished manuscripts, including eight by Boston artist-historian Allan Rohan Crite.
Contemporary works from emerging writers of color keep the collection vibrant. New books are added every year to fulfill the original mission of purchasing, cataloging, and housing the complete works of African American authors spanning the 1700s to today.
About The Clark Collection
The
Clark Collection of African American Literature
is a collaborative effort between Suffolk University, the Museum of African American History, and the National Park Service's Boston African American National Historic Site. The collection was founded in 1971 by Edward Clark, professor emeritus of English at Suffolk University. Its 5,332 carefully curated volumes are part of Suffolk's larger collection of 32,000 works spanning African American history, culture, and voices.