TEDx Event Is the Talk of the Town
War. Injustice. Racism. Abuse. Crime. Death.
These were just some of the powerful themes presented by the five speakers at this year's TEDx. Organized by Suffolk students, the TEDx events are an offshoot of the non-profit TED Talks and were created for independent organizers who want to create a TED-like event in their own community. Student volunteers from both the Sawyer Business School and the College of Arts & Sciences contributed to the video production, photography, animation, graphic design, social media marketing, promotion, coordinating speakers, and the event itself.
"Our team started planning in November, beginning with curating the theme, talks, and speakers to align with what makes Suffolk unique," said co-organizer Lane Sutton, BSBA '19. "The theme that stuck was access: what it means to us and how the city enables access."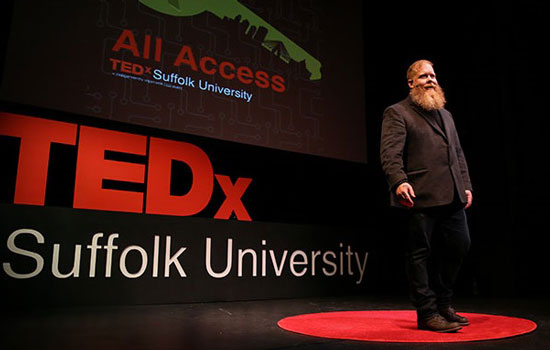 After an introduction from President Marisa Kelly, the evening kicked off with Adam Foss, JD '08, a former assistant district attorney in the Juvenile Division of Suffolk County. He made a moving comparison between his mother and 16-year-old Steven, one of the juveniles who cycled through his office again and again
When his mother was dying of cancer, "we never had to wonder about her getting the best, most up-to-date treatment," Foss said. The same was not true for Steven: there was nothing "up to date" when it came to handling his issues. "We're still using the same iterations for his kind of behavior that we were centuries ago," said Foss.
Foss' point was that trying to "punish the behavior out of Steven" and using criminal solutions for public health problems is a dead-end road.
Steven was stabbed to death before he could really turn things around.
Street Art, Street Smart
Next up, Che Anderson took the audience on a tour of Worcester, Massachusetts, and the numerous street art installations the city has supported. Artists from around the world have come to Worcester to create giant murals on buildings, schools, and other locations. According to Anderson, the paintings aren't just art, "they're community development."
The third speaker was Atyia Martin, former chief resiliency officer in Boston Mayor Martin J. Walsh's office. She discussed how racism is "a tool used to control people" and how it "limits our ability to organize and see our shared struggles and to dream." Her final, moving thought was that "in our individual lives, we can be activists every day."
Syria to Southie
Next up was Ahmad Isa, BA '18. He told a spellbound audience about his experience in a field hospital in Syria. With snipers outside, a lack of supplies inside, and no doctors to help (he was a medical student at the time), Isa said he managed to save hundreds of lives…only to have to leave the country and start over in America. At the end of his talk, in tears, he showed a picture of a gravestone. It belongs to his brother, who was killed in the war.
The final speaker was a familiar face to the Suffolk community: Chris Siteman, BA '03, JD '13, a lecturer in the English Department. Siteman recounted a turbulent upbringing in South Boston with moves to many different homes, multiple schools, a bouncer job at the notorious Rathskeller in Kenmore Square, and other grim tales. Despite all that, Siteman focused on the positive themes of grit, inspiration, and access and how one needs a combination of all three to make it through to a calmer, more centered life. "Learn to labor and wait," Siteman summed up, quoting Henry Wadsworth Longfellow.
Even before the post-TEDx networking event was over, co-organizer Javier Hermana was brainstorming next year's TEDx. "We're already thinking about how to make it even better," says Hermana. "We'd love to double the audience and really make TEDx a major part of every spring here at Suffolk."