Transformative Moments
If someone had told Redona Marku four years ago that she'd be a Commencement Speaker for the Sawyer Business School, she absolutely would not have believed it.
"I'd have said, 'Get out of here!'" she says with smile.
But it's true: the Finance and Information Systems double major (with a concentration in Big Data) will deliver the undergraduate commencement speech at the Blue Hills Bank Pavilion to thousands of people: classmates, family, faculty, students, alumni, and distinguished guests. Her theme? The transformational power of Suffolk University.
It's a power that turned a quiet (by her own admission) freshman into a successful, eloquent senior, one who has a job waiting for her at J.P. Morgan starting this July: a two-year rotational program across the company with the chance to move to any office around the world.
"I came to Suffolk like most high school students: being afraid of looking dumb or saying the wrong thing in class," says Marku. "But at the Business School there are a lot of group projects, and you have to do a lot of presentations. Over my four years, I noticed myself becoming a much better speaker and being comfortable doing it. That's an important skill to have."
The J.P. Morgan job started out as an internship. Which came about because of two previous internships at State Street. Add in her honors coursework, a travel seminar to China, Alternative Spring Break in Appalachia, a job at Massachusetts General Hospital, a job at a bakery on the weekends, and everything else that happened over four years at Suffolk, and you have the prototypical Suffolk student: focused, hard-working, ready to make things happen. And yet this young woman born in Albania knows to take the time appreciate her accomplishments.
"When I got the internship at J.P. Morgan, it seemed like the best thing in the world for me," Marku says. "It was one of those moments where I realized that all my hard work had paid off. There are probably only a few times in life when you really feel that."
One of them being when you stand up to give a speech at the Sawyer Business School Commencement…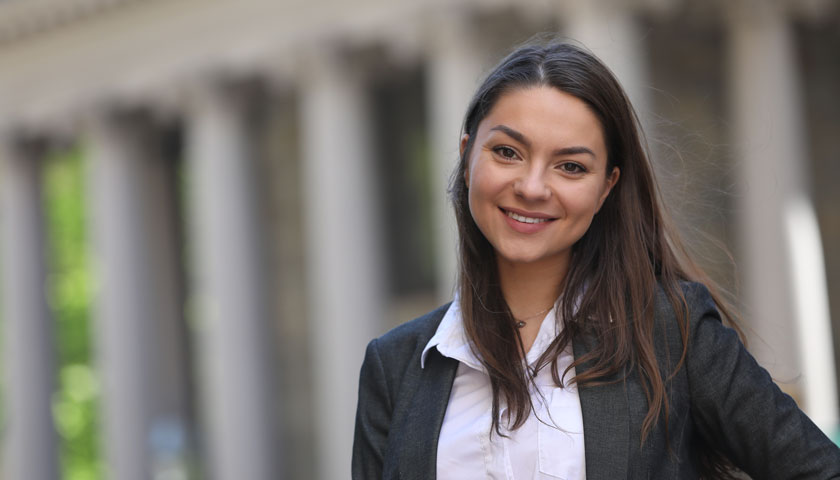 Contact
Greg Gatlin
Office of Public Affairs
617-573-8428
Ben Hall
Office of Public Affairs
617-573-8092