A desire to lend a helping hand took seven groups of Suffolk students to Alternative Spring Break locations across the country, where they helped build homes, worked with an environmental organization, and addressed LGBTQ+ issues.
The Center for Community Engagement, which has sponsored spring break service-learning trips for 17 years, this year sent student volunteers to Denver; Bel Air, Maryland; Meridian, Mississippi; Clarkesville, Georgia; South Bend, Indiana; Philadelphia; and Grand Canyon National Park.
"I've been involved with Alternative Spring Break for four years, and it has been a life-changing experience," said student leader Sarah Cohen, who was part of the Suffolk contingent in Philly. "It has shown me more about social justice and service activism than any classroom or training session ever could."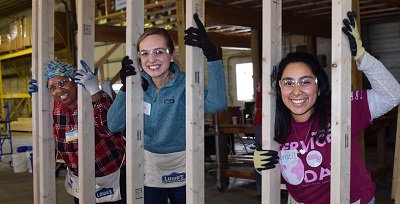 Cohen and fellow students helped fix up a five-story home shared by 60 LGBTQ+ residents. They also visited a non-profit organization, where they put together safe-sex and other educational packages for low-income, Latinx people.
"It's all about giving people the basic skills and foundation to help educate them on social justice in a variety of forms," said Cohen, Class of 2017, who is a double major in psychology and sociology.
Cohen said that her ASB trips have taught her to be a "more open and understanding person." She would like to see these volunteer opportunities "be mandatory" for all Suffolk students.
Each ASB group includes two student leaders, 10 additional student volunteers, and two staff/faculty facilitators.
"Through purposeful preparation and education prior to the service trips, our students develop a deeper understanding of social justice and community engagement," said Tim Albers, associate director of the Center for Community Engagement. "Through service, they are then able to connect with communities in different parts of the country to make meaningful contributions and to continue learning about social justice.
"We find that when students return here to Boston, they have a newfound commitment to community engagement and a group of friends who will join them in that work."
Suffolk Alternative Spring Break on Twitter #SuffolkASB17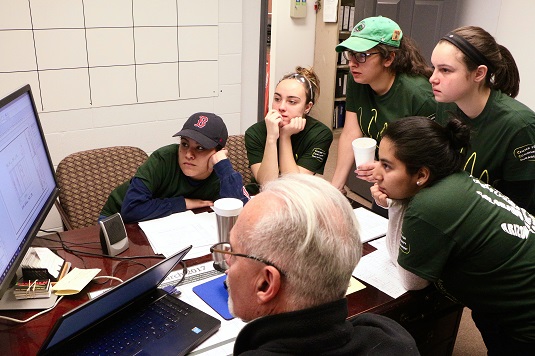 Students join Gerry Gardetto, senior site manager for Habitat for Humanity of St. Joseph County, Indiana, for a demonstration of a computer program the organization to design homes, create plans, and calculate material needs.