Founding father John Adams' wrote that America should be "a government of laws, and not of men," and Suffolk University Law School commencement speakers Robert J. Cordy and Paulette Brown both urged graduates to be guided by his words as they enter the legal profession.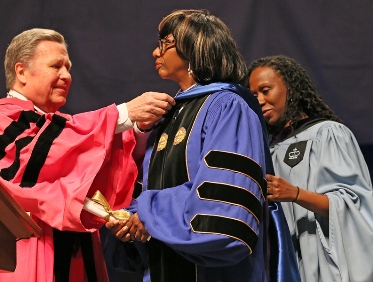 Cordy, an associate justice of the Massachusetts Supreme Judicial Court, and Brown, president-elect of the American Bar Association spoke as more than 400 men and women received degrees at Suffolk Law School commencement exercises May 16 at the Hynes Convention Center.
Law and equality
"Lawyers in America historically have been counted on to support the principles on which our country was founded, ensuring that the laws are equally applied to all people, regardless of status or unpopularity and living up to the promise that every person has the right to seek and receive justice," said Cordy.
He told of his experiences meeting with judges and lawyers from dozens of countries that are "struggling with the problem of establishing a legitimately independent judiciary … the problems of corruption and lawlessness, and the challenges of widespread social injustice."
America as a model
Cordy said that his colleagues from other nations are "anxious to understand the America experience with justice and to replicate it in some way within their own societies." He tells them that America has sometimes struggled in its quest for equal justice yet works tirelessly to identify problems, debate them publicly and correct them when possible.
Lawyers play a vital role in this discourse as they "speak against injustice, whether it be at Guantanamo Bay, in the Dorchester District Court or before the United States Immigration Service," he told the graduating students.
Returning to the life of John Adams, he said that the second president believed that his most important service to his country was his defense of the British soldiers charged in the Boston Massacre "and in doing so ensuring that the law applied even to those whom he most despised."
"Justice is its own reward, and Adams carried that reward and its important lesson with him the rest of his life, incorporation it into the constitutions of Massachusetts and of the United States," said Cordy.
"As tomorrow's lawyers, you will change the lives of your clients, you will change the course of our public and private institutions the quality of life in your communities," he said. "And this will be both your responsibility and your reward.
"With power comes responsibility"
Brown told the graduates that "your law degree is a symbol of power, and with that power comes great responsibility" and she challenged them to "make the world better, more fair and a more inclusive place."
"Now more than ever, our nation's lawyers need to lead," said Brown. She cited a national poll showing that half of America's young adults lack faith in fairness of our justice system. She also referred to a report saying that Massachusetts would never have enough lawyers to serve indigent residents needing representation in civil cases.
"I know that this class of 2015 does not believe that and that you are going to do something to change that statistic," said Brown.
She praised Suffolk Law's efforts to bridge this justice gap through its groundbreaking Accelerator-to-Justice program—"the first of its kind anywhere in the United States"—which teaches students how to form a sustainable law practice that serves those with average incomes.
Access to justice
"Your education here at Suffolk Law School has given you the tools to be agents of change," said Brown. While she acknowledged graduates' need to earn a living from the law, she told them: "You still will have time to give back and give service to your community. Suffolk has really taught you to do that."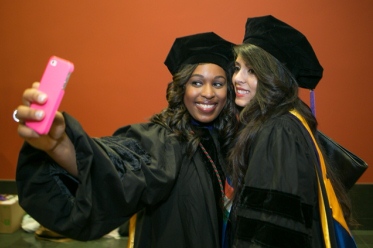 Cordy has served both in public service and private practice. He was a deputy commissioner of the Department of Revenue, associate general counsel in charge of enforcement at the State Ethics Commission, chief of the U.S. Attorney's Public Corruption Unit in Boston, and chief legal counsel to Massachusetts Governor William F. Weld. He was awarded an honorary Doctor of Laws degree.
Brown is a labor and employment law partner and chief diversity officer with the Morristown, N.J., office of Locke Lord Edwards. Her service with the ABA includes chairing the Board of Governors Program Planning and Evaluation Committee. Brown has served on the Commission on Women in the Profession, was a co-author of "Visible Invisibility: Women of Color in Law Firms," and chaired the ABA Council on Racial and Ethnic Justice. She received an honorary Doctor of Laws degree.
Honorary degrees
The University also conferred an honorary Doctor of Laws degree on U.S. Rep. William R. Keating, who serves the Massachusetts 9th District in Congress, during Suffolk Law School exercises.
Law School Statistics
Juris doctor degrees awarded: 420
Master of laws degrees awarded: 14
Sawyer Business School commencement
Boston Globe Editor Brian McGrory will speak at Suffolk University's Sawyer Business School commencement exercises at 9:30 a.m. Sunday, May 17, at the Blue Hills Bank Pavilion. He has worked at the Globe for more than 25 years serving as Metro editor and columnist, White House correspondent, associate editor, and national reporter. Under his leadership, The Boston Globe was awarded the Pulitzer Prize in the breaking-news category 2014 for its coverage of the Boston Marathon bombings. He received an honorary Doctor of Letters degree.
College of Arts & Sciences commencement
Gov. Charlie Baker will speak at the Suffolk University College of Arts & Sciences commencement at 2:30 p.m. Sunday, May, 17, at the Blue Hills Bank Pavilion. Baker was sworn in as governor this past January. He has a history of public service dating back to the 1990s, during which he served in the Weld and Cellucci administrations, first as secretary of Health and Human Services and then as secretary of Administration and Finance. Later he led Harvard Pilgrim Health Care out of receivership as its chief executive officer. Baker will receive an honorary Doctor of Public Service degree.
Farm Aid Executive Director Carolyn Mugar also will address the graduates. She joined Farm Aid after its first concert fund-raiser in support of family farmers in 1985, and has long been an activist engaged with issues that include labor, the environment, literacy, toxics, and community empowerment. She also initiated a reforestation project in Armenia. Mugar will receive an honorary Doctor of Public Service degree.