"The learning research is clear—that experiential, project-based, integrated learning leads to improved understanding, long-term retention, and better capacity to re-apply concepts in real life." —Professor Dominic Thomas
A collaborative effort among art and business students produced artwork displayed on campus, new-product concepts, and enhanced learning and creative skills.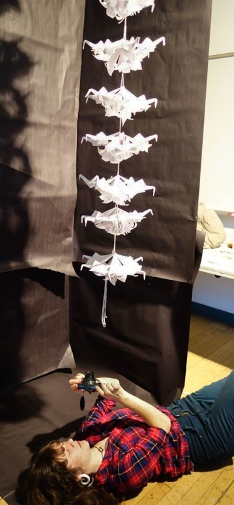 "Our goal was to create experiences that deepen content engagement and creativity across communities within the university," said Professor Susan Nichter of Suffolk's New England School of Art & Design. "This collaboration crossed many boundaries, not only between the business and art schools, but also because everyone from freshman through seniors was working together."
Sculptures in Business School
For the spring semesters of 2015 and 2014, students from the art department's integrated studio 2 course and the business school's project management course combined their skills on projects such as the installation of site-specific sculptures in the Sawyer Building.
Students used non-art materials, including disposable spoons, cups, straws, paper, coffee filters, string, and glue guns to form three-dimensional sculptures.
"This project allowed the studio students an opportunity to showcase their work in a real-world environment," said Fine Arts Professor Ilona Anderson. "It also gave the business students opportunities to work on real stakeholder engagement, risk analysis, task identification, and implementation skills, while creating an enriched and lively environment in the Sawyer Business School."
Students throughout the University were invited to a scavenger hunt featuring the collaborative artwork. They were asked to upload selfies with the sculptures onto Instagram.
Product redesign
Another project involved art and business students' redesigning products that could make the world a better place. The artists built prototypes and physical concepts, while their Business School counterparts created business plans, SWOT (Strengths, Weaknesses, Opportunities, Threats) analyses, and supporting project plans that could be used to form and launch micro-enterprises.
The products included a way-finding device accessed by popping a phone into a QR scanner and jewelry created using solar panels that can recharge cell phone and other electronic devices.
Hands-on learning
These experiential learning efforts were aimed at developing and testing new techniques for inspiring and motivating undergraduate students to exceed their current levels of learning, according to Business Professor Dominic Thomas.
"The learning research is clear: that experiential, project-based, integrated learning leads to improved understanding, long-term retention, and better capacity to re-apply concepts in real life," he said. "We also focused on meaningfully integrating course content into long-term and retained useful skills through these applied cross-disciplinary collaborations."
Said Nichter, "After the redesign project, one Business School student said, 'It was an adrenaline rush, having to think on your feet, multitask, and come up with ideas quickly.'"
Interdisciplinary approach to creativity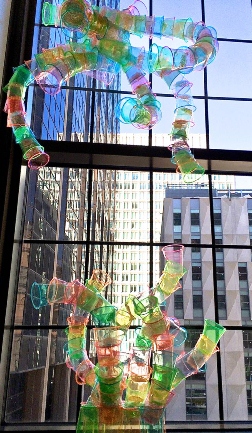 The cross-disciplinary collaboration was made possible under a Faculty & Professional Learning Communities grant from the Davis Educational Foundation through the Center for Teaching & Scholarly Excellence.
The experience forged new bonds between the Sawyer Business School and the art department.
"This was the first time that the business students were in our building," said Nichter. "They barely even knew that we existed."
"What a great way to show of our art students to the rest of the University," said Professor Robert Allison, chair of the History Department. "I really enjoyed their projects, and I am so happy to see them on display in the Sawyer stairs and windows."