The exhibit Haymarket, the Soul of the City, organized by Historic New England, presents photographs from the four seasons at Boston's Haymarket, which has served a constant stream of longtime residents, newly arrived immigrants, students and tourists since the first half of the nineteenth century.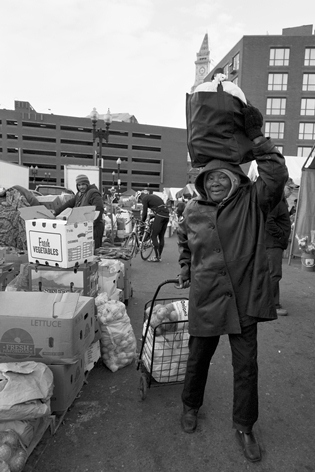 The exhibit, with 43 photographs by Justin H. Goodstein, interviews with curator Ken Turino and a video featuring the sights, sounds and voices of the Haymarket, will be shown at Suffolk University's Adams Gallery, from May 30 through Aug. 30.
Haymarket, Boston's outdoor food market, has weathered economic downturns, the advent of the supermarket, and massive construction projects from the Central Artery to the Big Dig. For most of the twentieth century, Italian produce vendors lined Blackstone Street. But the market is a reflection of the city's changing population, and today includes halal butchers, artisanal cheese mongers, Cambodian fruit sellers, and workers from South America and Asia.
Historic New England has partnered with the Haymarket Pushcart Association to document the Haymarket's people and life through Goodstein's photographs and oral histories collected by Turino.
Events and Images
The exhibit curators will be in the gallery to talk with visitors from 5:30 - 7:30 p.m. Thursday, June 25.
The documentary film Haymarket will premiere at 7:30 p.m. Wednesday, July 8, at Suffolk University's Modern Theatre, 525 Washington St., Boston. A panel discussion led by Suffolk University History Chair Robert Allison will follow. The panelists are Ottavio Gallotto, president of The Haymarket Pushcart Association; photographer Goodstein; and Historic New England's Turino.
All events are free and open to the public, and tickets for the film may be reserved online
An online companion exhibition for the Haymarket Project is available on the Historic New England website.
Artist's Statement, Justin Goodstein
"Each Friday morning on my way to work, Haymarket materialized out of thin air; come Saturday evening, it vanished. Year-round, like clockwork, the produce stands set up, voices arose from the weathered streets, and customers suddenly appeared. Haymarket is often photographed, but its story is seldom told. What I saw went far beyond vendors selling produce. I observed a cultural melting pot, a community interacting: buying and selling, yelling and bargaining. Haymarket cannot be recreated. It must continue to survive, progress, and evolve—to serve the community."
Captions:
Woman Carrying Produce
Mid-day Rush at the Market
Photos by Justin Goodstein
Courtesy of Historic New England