Lechmere Square in Cambridge is a congested area of roads, rail, and buildings, and yet nature was the inspiration for Professor Randal Thurston as he created artwork for a new MBTA light rail station to be built there.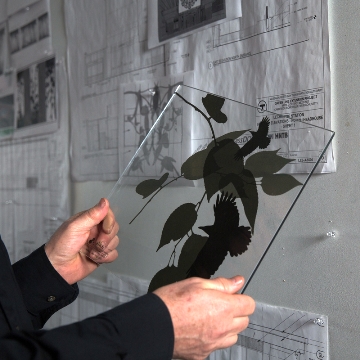 Images of grasses in perforated aluminum will greet commuters at street level, while a translucent panorama of soaring birds and vines will grace the glass-panels sheltering commuters at the upper-level trolley platforms. Sunlight will illuminate the scene during the day, and the glass-enclosed station will glow with interior and exterior light at night.
Thurston's proposal was selected from among 100 artists' schemes for the new station, to open in late 2017 as the link for new Green Line extensions to Medford and Somerville.
His concept draws from the Millers River that once flowed through the site, its greenery, the tides, and the birds migrating through in seasonal patterns that are as predictable as the daily commute.
"People flow in and out. There is movement and return, and the vines reflect that rhythm," said Thurston, who lives nearby in Somerville's Brickbottom Studios and often boards the T at Lechmere for his commute to Suffolk's New England School of Art & Design.
"I know what it's like to spend 20 minutes looking at the station surroundings, so I wanted to create something that people can come back to over and over again," he said, standing in his studio.
In the studio
Thurston's creative process is visible throughout the studio in photos, drawings and cutouts of plant and avian life. A computer screen shows a panorama of the bird and vine images that will be sandwiched within the station's glass walls. Behind the artist, the studio windows frame a blue sky. Two birds suddenly dart by at an acute angle.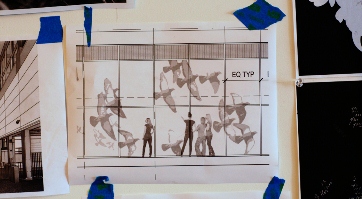 "It's important to me that the piece represents where I live and my work," said Thurston.
For an artist accustomed to developing an idea that remains open-ended until he arrives at an installation with paper in hand to create his signature black silhouettes, the detailed drafting and planning for the MBTA project has been a revelation.
A model for students
Thurston is bringing to the classroom lessons he's learned about working on a massive project with a client that has very specific requirements. Recent graduate James Helenski appreciates having a professor who is also dealing with the challenges of the art world.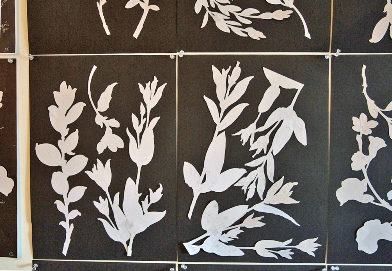 "I think the most important aspect of learning from a working artist is the environment and relationship within the classroom," said Helsinki. "Students are not learning from someone who seems above and outside of their world and experience but are learning from, in a sense, a peer. You get to see their mistakes as well as their successes, which as a developing artist is important to know: that failure is part of the journey."
Said Thurston: "I've been really honest with my students. They face challenges as they try to convert their ideas into artwork in the studio. I tell them that, in this process, I've lost my way at times, but I hang in and make it work."
Considering MBTA and community
The MBTA requires that all artwork be integrated into the station itself, so Thurston's larger-than-life bird images will be created in granulated glass, tinted white or black, and baked within 144 glass panels, measuring 7 feet tall and nearly 6 feet wide, that are part of the station architecture. Commuters will be able to decipher the images from 200 feet away. The station artwork cannot require special maintenance and must stand up to power washing. And there are strict deadlines to consider.
The agency, which set aside a percentage of project costs to allow for artwork in three new stations, also wants the project to be community based. Thurston plans to reach out, in particular to middle and high school students, to introduce the artwork, tell them about his thought process, and thus give them a feeling of ownership. He did this in the past in connection with his artwork in the Yerxa Road underpass in North Cambridge, an installation that also featured birds and plant life in silhouette.
"In the museum and gallery tradition, people who come in know something about art. Here I have the opportunity to touch all of the community, from people who know little or nothing about art, to people who know quite a bit," he said.
The research behind Thurston's work included:
Spending time in the park underneath the Zakim Bridge observing grasses and other plants
A bird census from Mount Auburn Cemetery in Cambridge. procured by his wife Alyson Schultz
Study of the historic Millers River and the communities that grew up along the stream before it was filled in because of pollution from the area meatpacking industry
Thurston sees the extended Green Line, which will be built along the general lines of the old Millers River, as a way to reconnect these neighborhoods.
The designs for artwork to be incorporated into the glass and metal components are being sent to fabricators over the summer, to be ready for the builders as the new structure rises near the existing Lechmere Station. Thurston plans to bring his Suffolk students to the construction site to witness the incorporation of artwork into a functional structure—and to see firsthand the mark an artist can make on his or her community.