Massachusetts Gov. Charlie Baker told political reporter Joshua Miller that he supports raising the cap on charter schools during a Boston Globe Political Happy Hour held at Suffolk University on July 15.
The casual conversation with a political twist was the first in a series of LIVE Political Happy Hour video-interviews to be webcast live on the bostonglobe.com website. See the follow-up news story.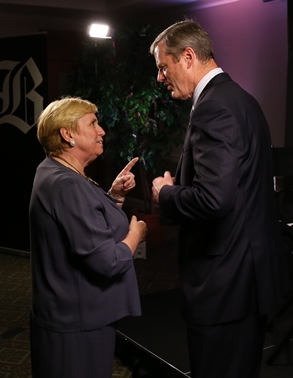 Miller and Baker held their upbeat, one-on-one conversation before a packed house at the University's Sargent Hall. They covered a wide range of issues, including the opiate crisis, education, affordable housing, taxes, the MBTA, and the possibility of Boston hosting the 2024 Summer Olympics.
When asked if he had any regrets since his inauguration, Baker said that he should have reached out earlier to Beverly Scott, former general manager of the MBTA, during this past winter's devastating snowstorms.
While Baker said that, for the most part, he is satisfied with his administration's decision-making, he noted: "I'm a low-regret governor, but don't put that on a bumper sticker."
"I think that this was a great format and I thought the formula worked," said Suffolk University President Margaret McKenna. "I felt that Joshua did a great job; he was aggressive and nice, and that's not an easy thing to do. He set the tone.
"And I thought that Governor Baker did a great job as well. He was given some tough questions, and he wasn't defensive at all."
"Suffolk University has always been a leader in promoting discussions about government and public policy," said John Nucci, senior vice president of external affairs at Suffolk University. "It is a pleasure to be able to work with the Boston Globe to help bring about a conversation with the governor, and we hope to do more such events in the future."
Photo:
Suffolk University President Margaret McKenna talks with Gov. Charlie Baker