Editor's note: The gender-neutral words "they" and "their" have been used as singular personal pronouns at James Helenski's request.
Award-winning artist James Helenski plunged into the professional art world through a residency with the Icelandic Printmakers Association in Reykjavik, Iceland, shortly after graduating in May from the New England School of Art & Design at Suffolk University.
"My goal was to experiment with a printmaking technique called cyanotyping," said Helenski, BFA '15. "This process is very similar to black-and-white photography except that the end result develops in colors such as indigo and dark blue."
Cyanotyping is a light-sensitive process, and, because the sun can be used to create exposures, spending a month in an environment bathed in sunlight nearly 24 hours a day was perfect for Helenski's artistic adventure.
During their Icelandic experience, Helenski created prints using images from previous performance pieces as well as objects found in the landscape, such as lava rocks and gnarled branches.
Artist residencies give studio artists like Helenski the opportunity to explore a new places, share ideas, gain knowledge, and enhance skills while producing or continuing a body of work. The Icelandic opportunity fell right into line with the advice Helenski's professors had given: to pursue new challenges as a way to expand their creative nature.
Award for senior thesis
Helenski's artistic thesis involved creating statements about non-binary gender identities and language as a tool of oppression, which they etched into blocks of wood using a laser-cutter. Helenski then pressed the woodblock statements onto their skin and used photos and video to document the performance. Helenski's creative work resulted in their receiving the International Sculpture Center's 2015 Outstanding Student Achievement in Contemporary Sculpture Award.
"James was a fabulous student to work with because they would take a challenge in the classroom and think deeply about it," said Fine Arts Professor Audrey Goldstein, chair of Suffolk's Art & Design school. "They also were willing to test their ideas out and look for the best solutions, similar to the way a scientist would work with a hypothesis."
Helenski benefited from the many insights about the professional artistic practice shared by Art & Design faculty.
"It was all very helpful, because it was like getting a behind-the-scenes look into the real world," said Helenski. "We learned everything from how to write a proposal to how to expand what you already know to how to devote the proper time when it comes to studying and testing a piece of art."
Icelandic inspiration for ongoing work
Helenski traveled widely in Iceland and captured beautiful images along the way.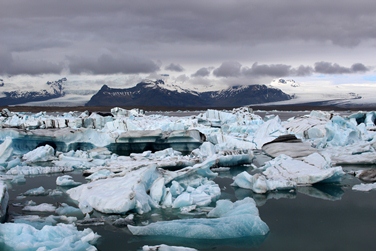 "The Icelandic landscape is so inspirational," they said. "I have several pages of ideas jotted down in my sketchbook for projects I hope to begin working on sometime soon."
Helenski connected with artists from all over the world and said that their experience studying art at Suffolk "gave me the skills to organize and motivate myself" to take full advantage of the Iceland study opportunity.
"Being part of a residency so soon after graduation was a huge confidence boost for my ability to maintain a studio practice outside of the university context," said Helenski. "For me, this was a very successful first step into my life as a professional art maker."
Photo: "The Icelandic landscape is so inspirational," says artist Jame Helenski.