Suffolk University, Boston Mayor Martin J. Walsh, and members of the East Boston community officially celebrated the University's new athletics home at East Boston Memorial Park on Sept. 12 at the athletics complex.
Suffolk Rams baseball, softball, and men's and women's soccer teams will train and play home games at the park, sharing the facilities with East Boston High School and the East Boston community through a partnership with the city of Boston.
Partnership a "win-win"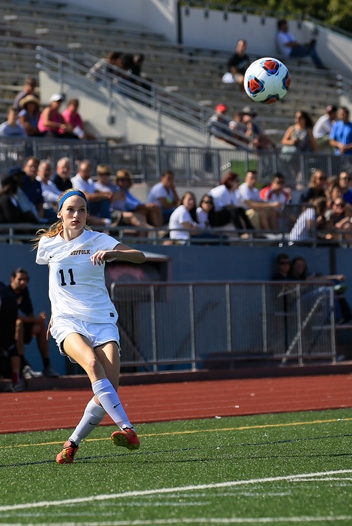 "It's exciting to be here to show the partnership between Suffolk University and the Boston Public Schools, in particular East Boston High School. It's a win-win for everybody," said Walsh. "You can't do this without a partnership and a team approach. Suffolk really is the university in the heart of our city that's engaged in so many different ways. This is the beginning of a long-standing relationship."
"This new partnership with the city of Boston is an exciting one," said Suffolk University President Margaret McKenna. "With the support of Mayor Walsh and his team, Suffolk now will be able to provide opportunities for young people and athletes in East Boston, while at the same time providing the university with a wonderful and easily accessible home-field facility for our athletics program."
John Nucci, Suffolk's senior vice president for external affairs and a lifelong East Boston resident, told the crowd that, for him, it was an "extra special" day.
"Mayor Walsh and Parks and Recreation Commissioner Christopher Cook could not have been more cooperative in making this partnership a reality," said Nucci. "As a result, it's a big day for Eastie, a big day for Suffolk University, and a big day for students and residents alike."
Participating in the opening-day ceremony were East Boston High School Headmaster Phillip Brangiforte, East Boston High School Athletics Director Ryan Conway, and Suffolk University Athletics Director Cary McConnell, along with elected officials and Suffolk University and East Boston High School student athletes, coaches, faculty, administrators, and alumni.
Scholarship commitment
Suffolk freshman Brianna R. D'Amelio, an East Boston High School alumna and a recipient of the university's merit scholarship, also took part in the Rams FanFest celebration of the Suffolk-Boston collaboration. The University will provide two scholarships each year for East Boston residents as part of its partnership agreement.
In Suffolk Athletics' 69-year-old history, it has had a lot to cheer about, with 13 Great Northeast Athletic Conference titles, 32 trips to the ECAC tournament, nine All-Americans and eight appearances in the NCAA tournament.
"But there is one thing that has been missing until this year, and it's a place to call home for our outdoor athletics teams," said McConnell.
Fulfilling a dream
"On behalf of Suffolk Athletics, I want to extend our thanks and gratitude to everyone who worked so hard to make this dream come true," he said. "I look forward to seeing present and future All-Americans and championships on this field."
Student Athlete Advisory Committee President Adam Chick, a member of the men's basketball team, said: "Today is another stepping-stone to enhance Suffolk Athletics. It is with great excitement that we are now able to call this place home. Athletics is a big part of any university, and all of the student athletes here are grateful."
The women's soccer team played on its new home turf against Lasell College following the official ceremony, and the men's soccer team later hosted Mount Ida College.
As part of the agreement, Suffolk University is providing the following:
New electronic baseball and softball field scoreboards
Additional bleacher seating
Softball infield improvements
Two new batting cages
New training room equipment for East Boston High School and Suffolk University use
Funding for East Boston High School athletics programs
Two full Suffolk University scholarships designated for East Boston residents
Resources for staffing the East Boston Stadium from April to November for East Boston resident and general public use