Law student Kristen O'Keeffe took a significant step outside of her comfort zone when she spent a summer as a U.S. Army JAG Corps intern at Fort Bliss.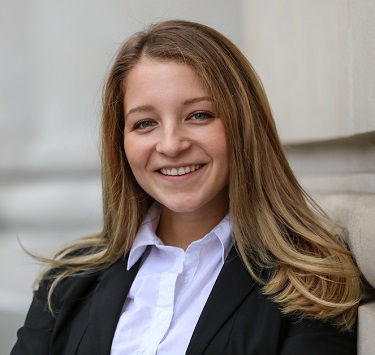 She had completed her second year at Suffolk University Law School and then headed to Texas for the hands-on experience in administrative law, military justice, legal assistance, and operational law.
"I was given tasks to complete as though I was an attorney alongside the officers there and truly felt part of the team from day one," said O'Keeffe, Law School Class of 2017, who, as a result of that internship, plans a future in the Army. After taking the bar exam, O'Keeffe will head to Fort Benning, Georgia, to become a soldier and then to Charlottesville, Virginia, to train as an Army lawyer.
O'Keeffe's duties as a JAG intern included drafting prosecuting memos, preparing a paper detailing what information can be released to the media, working on a duty-determination case, and analyzing tactical orders for an installation-wide field exercise.
Rising to the challenge
She also experienced the soldier's life, rising at 6:30 each morning for physical training and spending a day in the field learning about Patriot and THAAD missiles.
"I learned so much about the military and legal issues through the JAG Corps," she said. "I also learned about myself and was challenged in ways I had never been challenged before. My experiences with the JAG Corps have easily made me a better and more independent leader and future lawyer."
O'Keeffe was motivated to explore the Army experience after taking a military law course that addressed the constitutional rights of military personnel, courts-martial jurisdiction and offenses, trial and appellate structure, the roles of commanders, and more.
"That course inspired and prepared me for my internship," she said. "I even brought my notebook from class with me to reference a few things."
Wide-ranging student experiences
As a Suffolk Law student, O'Keeffe was editor-in-chief of the Journal of Health & Biomedical Law, a member of the school's national trial team, and a law admissions ambassador. She also worked as a clerk at a Boston law firm and as an intern at the Massachusetts Bar Association.
Suffolk Law faculty member Richard Sinnott, an Army Reserve judge advocate, Iraq war veteran, and 2009 Suffolk Law graduate, is confident that O'Keeffe will succeed in the military.
"Becoming a JAG officer is not a job or a profession; it's a calling," said Sinnott. "Kristen has the intelligence, personality, and dedication to the law and her country to become a strong leader one day."