Ereni Markos never stops moving.
She glides effortlessly around the room, shaking hands, making introductions, and sharing kind words.
A marketing professor in the Sawyer Business School, Markos was the driving force behind the full-day Bridging the Gap conference on March 31—drawing digital marketing professionals together with students and faculty to share the latest trends and insights. Connections, she explains, made the event possible.
Bridging the Gap speakers included leaders from powerhouses like DigitasLBi, Reebok, and MIT. What they all have in common, in addition to digital marketing savvy, are their connections to Markos and other Business School faculty.
"Networking is not just for job-hunting," said Markos. "My contacts serve as case studies and clients in my classes and as potential mentors, internship coordinators, and employers for my students and alumni. Tapping into our networks has enormous mutual benefits."
Bridging the Gap, now in its sixth year, exemplifies that synergy. Students learn from the real-world examples shared by industry leaders, while professionals get to absorb the latest academic research in their field.
Learning on the job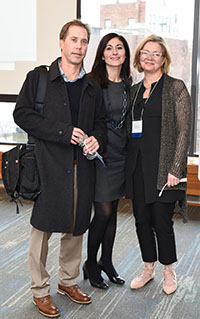 Marketing major Marlee Melvin, Class of 2017, knows firsthand how important real clients and projects are to supplementing the classroom experience. When she interned at the CBC agency in downtown Boston last summer, Melvin learned public relations basics on the job.
"I had no experience with PR tasks like creating media lists," Melvin said. "But I wanted to learn and was able to brainstorm and be part of the team."
Soon Melvin evolved into a valued contributor on projects for clients as diverse as food retailer Stonewall Kitchen, biotech company Veritas Genetics, and a Silicon Valley start-up. She credits CBC co-founder and Bridging the Gap speaker Erika Brown with giving her that seat at the table.
"Honestly, there came a time at [my company] where it flipped on me." said Brown. "I realized the most enjoyment I got from my job was seeing the cool, innovative things coming from younger employees. It's worth putting the time into mentoring because the most brilliant, novel ideas can come from fresh perspectives."
Brown stresses the importance of interpersonal skills and adaptability.
"In today's environment, everyone focuses on the 'new new' so much that it breeds inadequacy," she said. "What you really need to bring to the table is smarts, a good attitude, and a strong work ethic—the latest technical skills can be learned."
Common interests, common goals
Panelist Katie Marciano, associate media director at Trilia Media, emphasized that students must take advantage of "internships and networking opportunities—like this event. Knowing somebody might not get you that first job, but it opens the conversation and creates future opportunities."
This year's Bridging the Gap conference was sold out, and had a 50/50 mix of students and industry professionals. Several Business School student volunteers helped organize and run the event. Proceeds went to fund two Excellence in Marketing scholarships, awarded based on video entries detailing how students intend to use their marketing degrees. See the winning entries from seniors Taras Sadvoyy and Riccardo Caputo.
Developing networking skills
Many business cards, and quite a few more LinkedIn invitations, were exchanged between sessions and over lunch—as Markos intended.
"Networking shouldn't start senior year," said Markos. "Those skills need to be built over time, and these thought-provoking sessions help spark real conversations."
During the closing panel on Social Media Trends, Green Banana CEO Kevin Roy offered a parting reminder to students as they head into the job market. It may have been the most important networking advice of the day:
"Remember, we all look at your social channels before we hire."

Conference co-organizers Morgan Williams, Class of 2016, and Professor Ereni Markos; Excellence in Marketing scholarship recipients Taras Sadvoyy and Riccardo Caputo; Marketing student Marlee Melvin, Class of 2017, with classmates Amanda Fazzio and Louise Bengtsson. (Photos via Chrissa Markos Photography)
2017 Speakers & Panelists
Brett Leary
SVP, Commerce Innovation, North America
Digitas LBi
Sarah Lunn
Senior Marketing Manager
Reebok
Erika Brown
Co-Founder
CirconeBrownCompany (CBC)
Renee Richardson Gosline, PhD
Senior Lecturer and Research Scientist
MIT Sloan School of Management
Caitlin Hurley
Social Strategy Manager
Digitas LBi
Katie Marciano
Associate Media Director
Trilia Media
Kevin Roy
CEO
Green Banana
Erik Nelson
Digital Development Director
SAIL Magazine
Kim Ring
CEO
Ring Communications