In May of 2014, Jared Sell dropped off his final interior architecture graduate project at Suffolk University, got back in his car, and drove straight down the East Coast to begin his work as an associate project manager for Walt Disney Imagineering. As he wraps up his latest project, the newly-opened Pandora -- The World of Avatar, Sell discusses how his time at Suffolk prepared him for this fantastic adventure:
Q. What's your current position?
A. Associate Project Manager, Walt Disney Imagineering
Q. Describe your role and responsibilities on Pandora – The World of Avatar
A. I was the project manager for:
This role had me lead the design and construction teams through until we opened to guests. My focus was to manage the full scope and schedule with the support of key team members.
Q. How did the interior architecture program at Suffolk help prepare you for such a unique working environment?
A. Disney's Animal Kingdom takes a unique approach to theme park design. When you walk into any of the lands, Pandora included, the land tells one singular story and immerses guests in a real place. You are a guest traveling to the moon of Pandora and everything about it is real, like a place you would travel to on Earth.
Walt Disney Imagineering is known for telling stories through design and the environment. What makes this fluid and powerful is the seamless transition between the interior and exterior environments. The interior architecture program supplied me with the missing piece in my education, stitching together those two pieces.
Q. Your undergraduate degree is in landscape architecture. What made you decide to pursue your master's in interior architecture?
A. The two different degrees together are a powerful combination. As a project manager, they allow me to intelligently speak to both aspects of the design and help facilitate team decisions. While I was not familiar with project management when I started my masters, I knew that my goal was to utilize both degrees to help produce cohesive environments.
Q. Why did you choose Suffolk?
A. Suffolk has a world class Interior Architecture program and was in the city I grew up in. The decision could not have been any simpler.
Q. How did you land your position at Disney?
A. As a freshman in undergrad, I started cold calling Walt Disney World cast members trying to figure out who I should talk to about being a designer. That networking led to an internship opportunity with Epcot's Horticulture Department, working nights beautifying the theme park. Through that, I met some of the landscape architects for Walt Disney World Resort and interned with them the following summer. After graduation, I went onto get my masters at Suffolk and upon graduation received a call asking if I would like to join the Imagineering project management team on the Disney's Animal Kingdom expansion. And the rest is history!
Q. It sounds like you never have a dull day in your position. What are some of the challenges you handle during a project as complex as the construction of Pandora?
A. Like any good project, there are always stories. The biggest challenge that I had was learning the everyday coordination and choreography of a large-scale construction site. While we all had the same goal, there is only so much space to get your work done, store materials, move vehicles through, etc. This elaborate dance and supporting the overall approach was educational and a challenge all at once.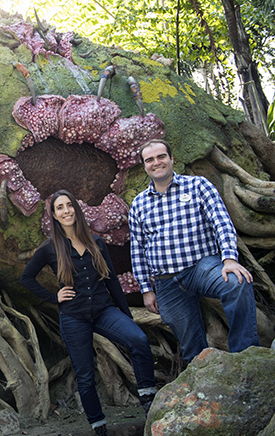 Q. Can you tell us something cool and not commonly known about Pandora and/or Disney?
A. There are so many details hidden within Pandora – The World of Avatar. For instance, the manhole covers within the land are specifically designed to stay within the story. They serve a functional role within our design, but they also enhance the story of the old base in the area. They were even custom made to have logos that you can see beneath the 'rust' as you walk over them.
Q. Which courses you took at Suffolk have been most helpful in your role?
A. Materials, lighting, contract documents, and environmental systems. Each taught me a specific skill or gave me a knowledge that I did not have before Suffolk but have been important to have in discussions with my position.
Q. What's the most rewarding part of your job?
A. There is no way to explain the feeling you get watching the guests walk into Pandora every day. The smiles and excitement make all those years of hard work worth it. It is a feeling that you chase for years and it is incredible.
Q. Now that Pandora is open to the public, what's your next project?
A. I will be continuing as an associate project manager with Walt Disney Imagineering, supporting the expansion of Disney's Hollywood Studios.
Q. What's your favorite Suffolk memory?
A. Some of best people I met at Suffolk were while I was a fellow with the Center for Learning and Academic Success. In fact, one of them was even the minister at my wedding. The opportunities they gave me to teach and tutor were some of the highlights of my time at Suffolk.
Inset photo: Walt Disney Imagineers Emily Sanchez and Jared Sell, a Suffolk alumnus,pose in Pandora – The World of Avatar at Disney's Animal Kingdom in Lake Buena Vista, Fla. (David Roark, photographer)