Interior Architecture and Design Professor Karen Clarke is particularly proud of her 2017 Distinguished Mentor Award because past students nominated her for the Design New England magazine honor.
Clarke's commitment to student and alumni success, recognized by the journal's award, exemplifies Suffolk's commitment to supporting students in class and beyond.
Sherry Abtahi—who as a Suffolk Interior Architecture graduate student was fascinated with lighting—recalls that Clarke arranged for "one of Boston's best lighting designers" to serve as her thesis adviser. Abtahi landed a job with the designer after graduation, she told Design New England, which profiled Clarke in announcing the Distinguished Mentor Award.
"As their professor, adviser, and mentor, I encourage students to follow their passion and interest in interior design," said Clarke, who teaches in the University's School of Art & Design. "It is important to help them achieve their life's goals and aspirations and to provide encouragement and self-confidence."
In nearly 20 years as a Suffolk educator, Clarke has developed close bonds with her students that last beyond graduation.
"Mentoring brings great satisfaction and fulfilment to me, as I see my students transition from their academic work into rewarding careers in interior design," she said. "I enjoy following their career paths by staying in touch with them.
"Many of my students even come back to teach in the program or participate in career panels. It's a good feeling to see them succeed in something they love to do."
"Part of our Suffolk DNA"
Suffolk faculty, staff, and alumni all engage with students one-on-one to offer guidance and advice ranging from academic support to building relationships through networking.
"The entire Suffolk community is deeply committed when it comes to mentoring our students," said Acting Provost Sebastián Royo. "Mentoring is part of our Suffolk DNA, rooted in our commitment and passion to do anything we can to support our students."
The many faces of mentoring
Matyas Chlebovsky, a student intern in Suffolk's Office of Marketing & Communications this summer, relishes the opportunity to learn from web developer and mentor Antony Paolillo.
"Antony has been very supportive and teaches me to do things one step at a time and the right way," said Chlebovsky, who is a double major in Information Systems and Big Data and Business Analytics. "He points things out to me -- what to do and what not to do--on every project from start to finish."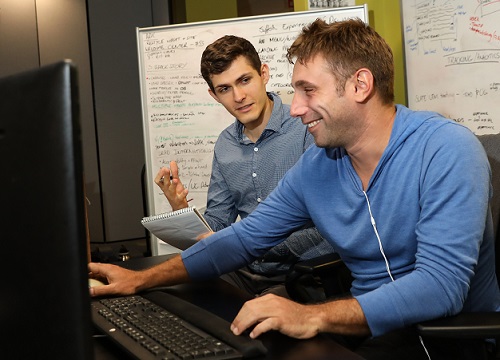 Chlebovsky is a fan of the hands-on approach to learning in a real-world working environment.
"I like taking the concepts I've learned in class and applying them to what I'm doing here," he said. "It has helped me to expand my knowledge."
Paolillo speaks highly of his summer intern.
"Matyas is always trying to learn more, and I keep giving him more difficult tasks," he said. "He tries to go above and beyond what's expected, and he can handle a lot."
Helping students reach goals
Students also take advantage of the Ram Alumni Mentoring Program, or RAMP, which connects alumni mentors with undergraduate students. These mentoring relationships foster personal, educational, and career success for students, while offering meaningful and rewarding engagement for alumni.
Another formal mentoring program is the Sawyer Business School Peer Mentor Program – Under a Wing, which matches first-year undergraduate students with juniors and seniors who have similar career and personal interests to help ease the transition into college.
"Every interaction that we provide our students is an educational opportunity, and mentoring is an outgrowth of that mind-set," said Royo. "Mentoring is a key component of a Suffolk education. There is little more gratifying than seeing the students that we mentor succeed and reach their goals."
Photo: Student intern Matyas Chlebovsky works with mentor Antony Paolillo.