It takes imagination to design a space inspired by Boston's public transportation system or created with a treehouse in mind.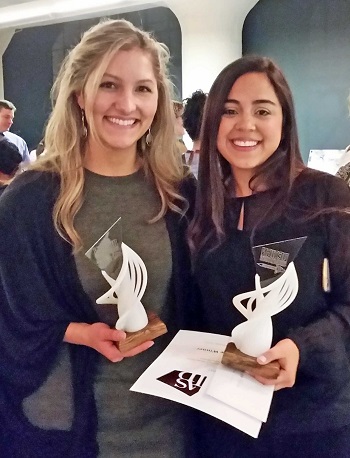 But these flights of fancy helped Interior Architecture graduate students Yennifer Pedraza and Julia Jenko, both Class of 2018, win Design New England magazine awards for retail/residential designs that were sparked by their observations of the MBTA and treehouse living.
Pedraza took home first place in the magazine's student competition, and Jenko was the runner-up. The third annual Design Showdown competition attracted aspiring interior design and interior architecture students from throughout the area and marked the third consecutive year that Suffolk Art & Design students have won awards.
The challenge: Create a two-level, retail/residential space on Boston's Newbury Street for imaginary clients with goals to be set by the competitors.
Artists' market
Pedraza's winning entry crated a marketplace for affordable, local art, with the owner living upstairs.
She designed a retail store, "Artistic Voices," on one floor, where artists would work independently or collaboratively with others in a flexible studio and offer affordable art for sale in a welcoming and fun environment.
The owner, imagined by Pedraza as a former graphic designer creating jewelry while cultivating others' artistic talent, would live on the floor above.
Navigating the space
Pedraza focused on the MBTA in creating the design.
"It became my concept and the driving force behind my design decisions," she said. "Much like the MBTA map, where each subway line is identified by colors and destinations, I wanted to embrace all users and provide them with control and independence to easily and safely navigate the space."
Another important aspect of Pedraza's retail space was offering flexibility for its users.
"I wanted my space to be interactive and to create a diverse, intergenerational community of art-loving people who not only range in age, but how age impacts their physical and mental abilities differently over time," she said.
Test kitchen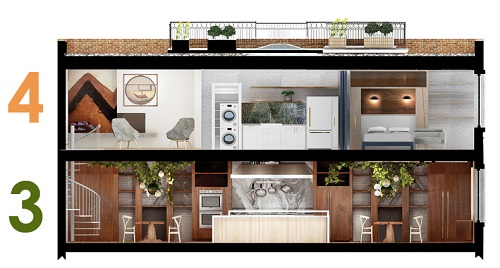 Jenko created a member-based test kitchen that challenges local chefs to make healthy meals, with the proceeds going to Action Against Hunger, an organization devoted to providing food security to needy people across the world. Her imagined client was a botanist and food scientist who needed spaces for a member-based kitchen as well as a place to live.
She looked at her client's scientific training and designed a space that united both the technical aspects and organic nature of food, using the treehouse as inspiration.
"I wanted to create a place that inspired diners and brought them back to a time when things were simpler," said Jenko. "Using man-made objects to support organic ones was a reflection of both my client's training and idea of a treehouse existing in nature."
A canopy of leaves
The third-floor entry into the test kitchen allowed it to be disconnected from the hustle and bustle of the street below, requiring patrons to "climb up" to its door, where they were welcomed into an open space sheltered beneath a canopy of leaves. In order to unite the two-floor space of a Newbury Street building, Jenko incorporated a spiral staircase with glass and mildly reflective materials.
"I used the location of the floors we were given to my advantage by leveraging the relevance of being high above the ground in the creation of a treehouse-inspired space," said Jenko. "My ultimate goal was to design a space that truly transported people from Newbury Street to a space far removed from the busy world."
Interior Architecture Professor Karen Clarke was pleased to have two more students honored in this year's competition.
"In addition to being very talented students, Yennifer and Julia are creative problem solvers with strong conceptual skills and a unique design style," she said. "Their passion for design coupled with their education will serve them well after graduation."
—Tony Ferullo
Photos: Julia Jenko and Yennifer Pedraza
Cross-section of Jenko's test kitchen design