How a fisherman's daughter combined art and activism to illustrate the dangers of overfishing
The sea is in Madison Laudermilk's blood.
Her father harvests bluefin tuna from the same Atlantic waters where her grandparents once sailed. She caught her first fish at age 4 — a striped bass right off the dock — and dining on their fresh catch is one of her family's favorite traditions.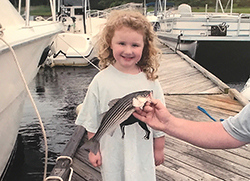 So when her Integrated Studio professor Susan Nichter challenged the class to create pieces for Alpha'a and Oceanic Global's Artivism (Art + Activism) competition, freshmen graphic design major Laudermilk's target was clear: she'd use her talents to highlight the dangers of overfishing.
"Overfishing is a topic that hits home for me," she says. "My dad tells stories about other boats breaking the law, violating quotas or catching immature fish. They get boarded by the Coast Guard and penalized for abusing the ocean."
If fish are caught too early in their life cycle it disrupts breeding, depleting stock around the world and damaging the environment.
"My dad spends every minute he can on the water and I see how happy it makes him. It's heartbreaking to think that someday there could be no fish left for us to catch."
Passion projects
"Deep-rooted feelings come up and out through art," says Professor Nichter. "Every student has something to say. This class helps channel those sentiments into visual storytelling."
Unlike in her high school art classes where she focused primarily on building fundamental skills, Laudermilk says professors at Suffolk push her "to find a deeper meaning to [my] art."
Nichter encourages students to build on their basics by exploring the relationship between images and text, the psychology of font, taglines, and economy of words. She finds out what students are passionate about and exposes them to artists who've covered similar topics in diverse ways.
Award-winning Art Basel debut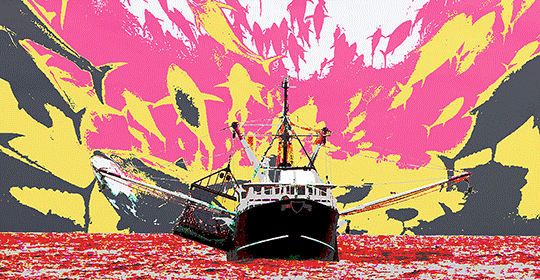 Laudermilk's piece, "Wanted Bluefin" — depicting a dragger boat and dozens of bluefin tuna swimming into the sky — uses bold imagery and colors to evoke an emotional response:
"I want the viewers to feel a connection to the tuna," she says. "If you can create a connection between viewers and the subject that can start to build a respect for the subject."
The competition's judges awarded Laudermilk top honors in her category, a win that meant her piece was shown at the prestigious Art Basel festival in Miami Beach, Florida. It's also available for purchase on the Alpha'a website with proceeds benefiting Oceanic Global's non-profit mission.
"I couldn't be more excited to have my work represented alongside established artists from all over the world," says Laudermilk. "It's also really cool to contribute artwork for more than just myself."
Susan Nichter is proud of Laudermilk and all the students who submitted thoughtful pieces to the contest:
"Any time students can make something real and current, it builds confidence. This is not just a line on a resume, but a piece in the real world that people can go out and buy."
— Andrea Gimler