The PPE degree offers a robust education for future leaders
"Every semester offers something new and interesting. I find myself becoming more educated in the most relevant things for this city and this time." —Joanna Abramchuk
Knowledge is power, as the saying goes, and Suffolk's sophisticated new Politics, Philosophy & Economics major empowers students to know their world in depth so they can change it for the better.
The Politics, Philosophy & Economics major is interdisciplinary by design, which appealed to Joanna Abramchuk.
"I knew I loved English and writing, public speaking, government, business, critical thinking, and learning," says Abramchuk. "I had no idea, however, how to wrap all of that into one major."
When she came across Suffolk's Politics, Philosophy & Economics, or PPE, program, Abramchuk, who was born in Russia and grew up in Greater Boston, immediately applied. She's now in the first cohort of about 30 freshmen who will pursue this rigorous major across their four years here.
The Politics, Philosophy & Economics program, while a recent addition to Suffolk's offerings, enjoys a storied reputation around the world—especially in Europe. Created at Oxford University in the 1920s, PPE is known as the degree program of choice for aspiring leaders. British Prime Minister David Cameron holds a PPE degree—as do dozens of members of Parliament, leading British journalists, influential commentators, and even the author of the bestselling Shopaholic series of novels.
"We want our students to be able to deal with and write and think about issues that refuse to be reduced to one dimension," says Assistant Professor of Philosophy and PPE Program Director Jeppe von Platz. "It's not good enough to only apply a political, ethical, or economic lens to issues like job security, immigration, racial injustice, and income equality. We hope to equip students with a 'tripod' platform so they can see how all three disciplines connect and analyze the intersections of these dimensions."
Von Platz saw a need for this "amazing, totally relevant, bloody good major" at Suffolk and began developing it soon after arriving on campus. He is "really proud" of the inaugural group of PPE students, who come from a multitude of national and cultural backgrounds.
"They are ambitious, curious, and open-minded," he says. "They care about social issues and have a willingness to learn."
A world of knowledge
And there's so much to learn. Students first take two foundational courses apiece in politics, philosophy, and economics for a nuanced introduction to this multifaceted field. Upon completing these requirements, PPE students dive further into their academic interests by taking two electives in each discipline, including an internship if they're so inclined. It all culminates in the course they'll take as seniors: PPE 401 Political Economy. This capstone presents thorny issues facing the world today and encourages students to offer possible solutions to and new ways of thinking about them.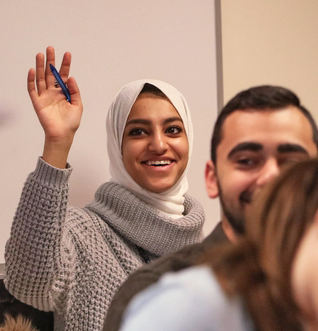 PPE students relish the opportunity to expand their awareness of the world and its complex issues.
"The program has been challenging in a way that makes me a better, more educated student and global citizen," says Helina Dawit, who is originally from Addis Ababa, Ethiopia." Dawit helps spread that global spirit across campus as chair of the highly active PPE Student Advisory Board, which arranges guest lectures and film screenings.
"Each class is different and engaging," Abramchuk agrees. "Every semester offers something new and interesting. I find myself becoming more educated in the most relevant things for this city and this time."
A relevant education
When it comes to applying their knowledge in the world, PPE students are perfectly placed to take career-shaping internships. Thanks to Suffolk's campus in the heart of downtown Boston, they can easily commute to a particularly rich array of internship sites. Suffolk's campus is a short walk to Boston City Hall, the Massachusetts State House, economic think tanks, and nonprofit organizations. Even more opportunities are a quick T ride away.
"I would love to intern at the State House, possibly spend a summer in Washington, DC, working for nonprofits or the federal government, or maybe explore Boston's media outlets," Abramchuk says. As of now, her post-graduate goals are to attend law school and either run for office or pursue nonprofit work.
Dawit also wants to pursue an internship. While she has three full years to hone her professional focus, Dawit has her eye on the emerging field of transitional justice. "Maybe I'll work as a negotiator or policy analyst," she says. "PPE gives students interested in being in the front lines of the new global village the tools to do so."
While the Politics, Philosophy & Economics major positions students to succeed in a wide choice of careers after graduation, the pursuit of knowledge remains a goal in and of itself.
"I've learned that I still have a lot to learn," says Abramchuk. "And I love that."