Students design housing options that consider the sensitivities of people with autism
People with autism are sensitive to their surroundings, with sound, light, and tactile sensations often proving bothersome, and Suffolk graduate students have been working to design alternative housing options and residential supports to alleviate their discomfort.
The New England School of Art & Design students collectively produced 17 small-space prototypes, each allowing a person to take a time-out from his or her immediate surroundings to relax and be as comfortable as possible.
For example, students explored how plywood could be deformed to deflect sound; how fabric could enfold a space to provide lightweight and transportable enclosures, and how cardboard tubes could be assembled to provide a closed space.
The students from Professor Sean Solley's Universal Design class prepared a 105-page presentation of their innovative ideas and submitted it to the national "House to Home Prize"competition conducted by Autism Speaks, the world's leading autism science and advocacy organization.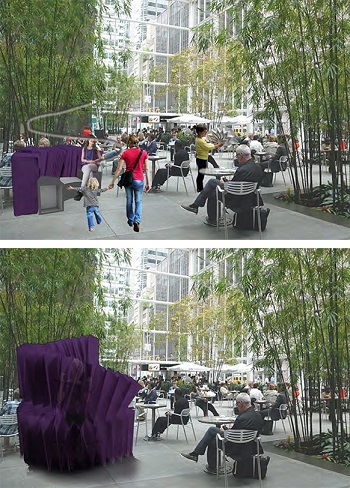 Universal design philosophy
"This project provided our students with an opportunity to address complexity with creativity," said Solley, who teaches interior architecture and interior design. "They were engaged from beginning to end, trying to make their designs responsive to people with autism, but also appealing to all users regardless of physical or cognitive ability."
"We explored how sensory stimuli can be modulated in a variety of environments ranging from transportation hubs to health and educational facilities," said Solley. "The project entailed five independent brainstorming exercises that enabled us to explore materiality, the senses, and how design can be responsive to sound, light. and touch."
Snail house
Graduate student Akhila Ghattamaneni created a pod, labeled the "snail house," that helps people with autism calm down in high-traffic, stimulating areas, such as a bus station or an airport. The pod can be used individually, was designed with attention to the right amount of light, and was constructed using just two materials – driftwood and architectural clay.
"Driftwood and clay seem to fit because they are natural materials and have a very soothing texture," explained Ghattamaneni. "Since the shell of the snail house is made using driftwood, each pod can be more like an artistic piece rather than a generic pod.
"Seating inside the snail house will be made using clay so every pod can have different seating types, which will make the user more comfortable."
Ghattamaneni said that this project helped her become more mindful of the end user of her designs.
"I learned that the spaces we created will affect everyone in one way or another," she said. "I am now confident that I can design spaces for targeted users, which will help them be independent in their day-to-day life."