Moakley Breakfast Series Features Martha Coakley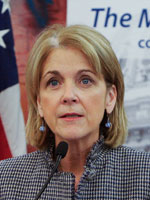 On April 4, the Institute for Public Service, the Moakley Center for Public Management, and the Moakley Foundation, hosted the Moakley Breakfast Series, featuring Attorney General Martha Coakley.
Coakley, who has more than 20 years of experience working in public service, discussed major issues regarding nonprofit policy. She explained that the Attorney General's Office works behind the scenes with nonprofits to provide oversight and ensure that their actions are transparent and in compliance with the laws.
"We have the statutory responsibility to enforce the due application of charitable funds and to prevent breaches of trust in the administration of charitable funds and assets," Coakley said.
Her office also helps ensure that nonprofits have the appropriate resources, training, and opportunities to achieve their goals. "We are really committed to making sure that charities succeed, that they are able to fulfill their missions" Coakley said.
Coakley noted that the level of transparency within nonprofits has increased over the years. The growing trend, she said, is an essential component of effective nonprofit policy. Transparency allows board members to evaluate their ethics compliance compared to other charities and makes it easier for the Attorney General's Office to provide oversight.
After Moakley's talk, a panel of nonprofit leaders expanded on the discussion. Rick Jakious, CEO of the Massachusetts Nonprofit Network, noted that the nonprofit sector has a huge presence in Massachusetts, as it employs 16.7 percent of the state's workforce.
Jakious also explained that there are critical differences between nonprofit and for-profit organizations, suggesting that a "one-size-fits-all" approach to their governance and regulation would not be effective.
James W. Hunt, Jr., president and CEO of the Massachusetts League of Community Health Centers, addressed the issue of compensation for nonprofit directors and board members. Like Coakley, Hunt stressed the importance of oversight to ensure that compensation packages are justified.
Thomas P. O'Neill III, founder and CEO of O'Neill and Associates and former state legislator and lieutenant governor of the Commonwealth of Massachusetts, reflected on the importance of nonprofit organizations within the community. Effective governance, he said, is imperative to help nonprofit organizations grow and thrive.
The event is the second of a four-part series, collectively called the Moakley Breakfast Series. The talks are designed to carry on the legacy of late Congressman John Joseph Moakley, a Suffolk University Law School alumnus who made a lifetime commitment to public service.
The next Moakley Breakfast on June 8, will focus on the cost of education. Speakers will include Thomas Kingston, superintendent of Belmont Schools; Linda Noonan, executive director of the Massachusetts Business Alliance for Education; Glenn Koocher (MPA'77), executive director, of the Massachusetts Association of School Committees; and Kathleen J. Skinner, director of the Center for Education Policy and Practice at the Massachusetts Teachers. Association. Frederick W. Clark (JD'86), former chairman of the Massachusetts Higher Education Council, will moderate the discussion.