Young Alumni on the Fast Track to Success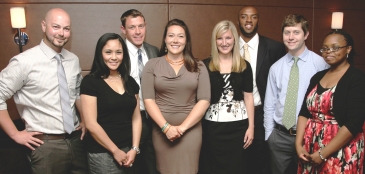 Todd Finklestone is helping orphaned African children get an education and find homes, applying the lessons learned at Suffolk University to his professional work environment.
Finklestone, co-founder of the non-profit CameroonOne, shared the story of his career of service with other young alumni who were recognized for their career accomplishments at a"10 Under 10" reception held recently at the Nine Zero Hotel near campus.
All those honored earned their Suffolk University degrees within the past decade.
Inspiration to others
"This event proves that, armed with their Suffolk degrees, our alumni often find themselves on the fast track to success," said Elizabeth Conley, who works with young alumni through the Office of Advancement. "Our goal was to highlight and take pride in their achievements to inspire our students and alumni."
Those honored not only enjoy professional success, but also make an important difference in communities here and abroad.
Finklestone received a BS in 2007 and an MS in Ethics and Public Policy in 2010. He and his CameroonOne team sponsor the education of orphaned children in the Republic of Cameroon. They recently embarked on a project designed to take parentless children out of orphanages and place them with surviving relatives who would otherwise not be able to afford to add to their households.
"If it weren't for the education I received at Suffolk, I wouldn't be where I am right now," said Finklestone.
Encouraged by faculty
Julia Frost (BSBA '08) is the business manager for CHIVE, a boutique catering company that produces zero-waste events throughout New England, working closely with local farmers, artisans, and small businesses.
Recalling her days at the University, Frost applauded the efforts of several faculty members who "encouraged me to find my passion and incorporate it my professional career."
Joining Frost and Finklestone as "10 Under 10" alumni honorees were:
Marissa Borst (BFA '06), interior architectural designer with Architecture + Design Associates, Inc. in Fairfax, Virginia
Michael Chapman (BS '02), author and associate professor of history at Peking University in Beijing
Huguette Diakabana (BSBA '09), regional programs manager of The Albert Baker Fund, which offers educational grants to active Christian Scientists living in the Democratic Republic of the Congo
Nick Dutter, veteran outreach coordinator, Red Sox Foundation and the Massachusetts General Hospital Home Base Program
Rebecca Frechette (BSBA '06), a professional in the marketing industry, ran seven marathons on seven continents in seven months in 2011
Eric Heins (BFA '09), owner and designer of Corter Leather, who created bracelets to raise funds when the earthquake and tsunami hit Japan last year
Clinton Lassiter (BSBA '07), CEO and director of Boston Showstoppers, an athletic enrichment program that develops elite female student athletes who are committed to academic excellence and community engagement
Daniel Vidal (BSBA '09), co-founder and CEO of ArtVenue, which has created a network of new art spaces by connecting local businesses with artists
The "10 Under 10" event was hosted by the Suffolk University Alumni Association and the Young Alumni Advisory Group.