Designer Gives Ugly Baby a Face-Lift
Interdisciplinary effort yields new logo for soap company
Ellen Kang's ugly baby proved to be a beauty.
Kang, a graduate student at Suffolk's New England School of Art & Design, created the winning logo for the Ugly Baby Soap Co. as part of a unique collaboration between the art and Sawyer Business schools. Students in Peter Bianco's corporate design class were tasked with creating a new logo for the quirkily named company, based in Melrose, Massachusetts.
"This project was very interesting, and it was a good experience for me," says Kang, who is working on her masters in graphic design. "I wanted the logo to be interesting and more upfront for the customer. I wanted the customer to focus on the company's name when they see the logo."
What Kang did was "refine" the company's logo, which prominently features a caricature of a comically homely infant. A single tooth juts from his gaping maw. Ears that could pass for a pair of satellite dishes frame a potato-shaped head, topped by a few hairs like sprouting weeds. His eyes are as crooked as tossed dice. He's so ugly, he's cute—almost.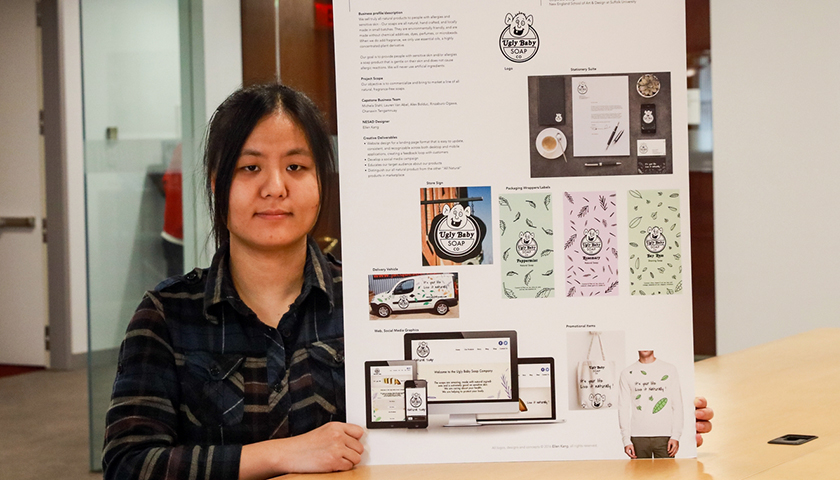 And in Kang's design, he's front and center. In her presentation, she adapted her design for everything from T-shirts and tote bags to stationary to company vans.
"I can understand why they picked it," says Bianco, a senior lecturer who teaches the corporate design course. "It's closer to what they're currently using, and it's a nice transition to where they want to go. Ultimately, that won the day."
Bianco has long stressed the real-world experience for his students, so joining with the Business School's "E-Clinic" was an easy decision. The E-Clinic cultivates Boston's business community, from established companies to start-ups, to work with students on such projects as product development, planning, and new opportunities. With the encouragement of Laura Golly, director of the graphic design program, Bianco reached out to George Moker, director of entrepreneurship programs and a Business School management and entrepreneurship instructor, about participating in a collaborative effort.
"I've always given my students the requirement that they had to go out into the world, locate a real business, and redesign or rebrand a logo. It was never a class where I gave them an assignment and said this is a fictitious company," says Bianco, who has taught at Suffolk for 22 years. "When I met with Professor Moker and he talked about what he was doing with the e-clinic, it was one of those things where this was perfect."
Kang is currently finalizing her proposal for Ugly Baby Soap Co. use of her logo.
"That design will be utilized and implemented, and it's going to be out in the world," Bianco says. "That, to me, is the ultimate compliment for a student."