Derelict Set Evokes Soul of "Doctor Faustus"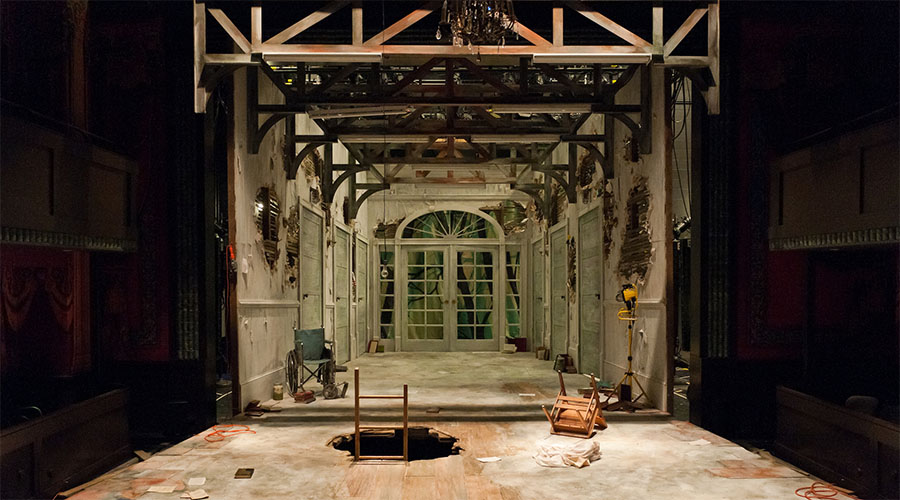 The sparkling new stage of the Modern Theatre has gone retro: Once again it is a beaten-up wreck as the stage is set for a Suffolk University student production of Christopher Marlowe's Doctor Faustus.
Award-winning set designer Richard Chambers, a member of the Theatre Department faculty, drew his inspiration in part from visits he had made to the interior of the derelict Modern Theatre before it was razed and transformed into a new showplace with a restored façade.
As his colleagues met to plan the production, Chambers was drawn to photographs of abandoned buildings that Director David Gammons brought to the table.
Image of corruption
"I liked the look; it reflects the corruption of the soul," a major theme of the Faustian legend of a demented genius who strikes a terrifying bargain with the devil, said Chambers.
Before Suffolk University replaced the ruin of the Modern Theatre, the caved-in roof had been left open to the elements for decades, and the interior was rotted beyond repair.
"I remember going in and being captivated," said Chambers of the once-glamorous derelict. "It was lit with work lights … you could hear dripping water and the sounds of pigeon wings."
Stripped of humanity
Chambers incorporated peeling paint, plaster oozing through lathe, and a hole-pocked floor into the Doctor Faustus set to bring home the sense of the title character's humanity being stripped away through the wiles of Mephistopheles.
The lighting and sound effects also highlight the wreckage that serves as a metaphor for the depths to which Doctor Faustus sinks.
Chambers, who has designed more than 150 productions in the Northeast, is the recipient of two Elliot Norton Awards and three Independent Reviewers of New England awards. He is an associate professor in the Theatre Department.
The Theatre Department presentation of Doctor Faustus runs Nov. 17 - 20, 2011, at the Modern Theatre.