Barney Frank Kicks Off Moakley Breakfast Series
Congressman Barney Frank criticized government leaders for a lack of financial oversight in a speech delivered to a packed jury assembly hall at the John Joseph Moakley United States Courthouse in South Boston.
The event, presented by the Suffolk University Sawyer Business School's Center for Public Management and the Public Administration Programs, was the first of the Moakley Breakfast Series, which is designed to evoke the spirit of the late Massachusetts congressman's public service legacy. The annual series will focus on important national, state and local public policy issues.
"There was an ideological opposition to regulation," said Frank
.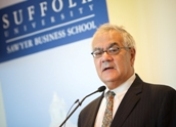 Frank on The Financial Crisis 2008
Frank, the Democratic representative for Massachusetts' 4th Congressional District and chairman of the House Financial Services Committee, spoke about the circumstances leading to the financial crisis of 2008.
"The lender-borrower strict discipline was lost," said Frank, who also accused corporations such as AIG and BP of skirting the rules and profiting from a lack of government oversight.
"You had people in power who did not believe in regulation," and because of that, Frank said, a culture of big-money interests was able to flourish in an environment with little to no checks or balances.
Frank also spoke about his bill co-sponsored with Senator Chris Dodd of Connecticut. The aim of the Dodd-Frank Wall Street Reform and Consumer Protection Act is "to promote the financial stability of the United States by improving accountability and transparency in the financial system, to end 'too big to fail,' to protect the American taxpayer by ending bailouts, to protect consumers from abusive financial services practices, and for other purposes."
Passage of the historic act signifies the most dramatic change in American financial regulation since the years of the Great Depression.
Frank, who is currently running for re-election, is optimistic that his bill, which was signed into law on July 21, 2010 by President Obama, will help everyday Americans avoid the pitfalls of financial excess and greed while reaping "the benefits of innovation."
"When the average citizen feels strongly about something," said Frank, "they can do anything."