"Be Unreasonable"
Boston Foundation President and CEO Paul S. Grogan asks Sawyer Business School graduates to be bold, generous, and optimistic.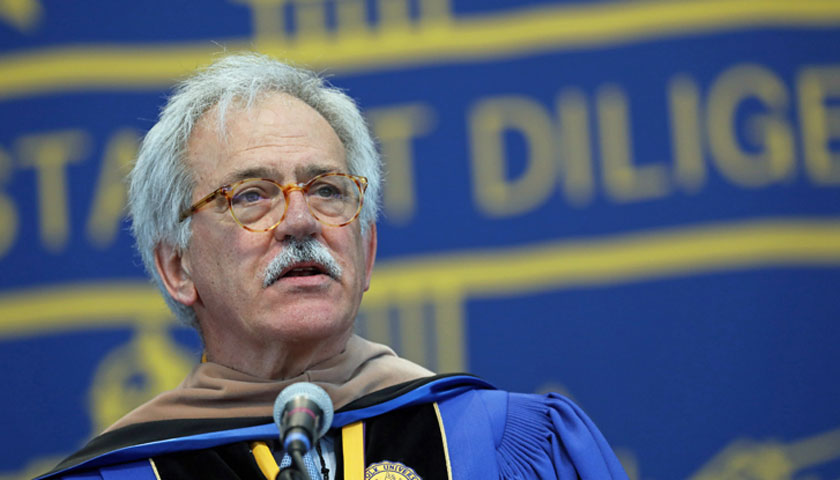 Boston Foundation President and CEO Paul S. Grogan urged graduating Suffolk University students to shake things up, think beyond earnings and to be optimistic. He was the keynote speaker at Suffolk's Sawyer Business School commencement.
Grogan, whose life's work has been the betterment of communities, noted that Suffolk graduates tend to stay in the Boston area, "which means that you will leave here with a degree that carries weight in one of the most dynamic regions in the world."
Yet he also described an urban "crisis" in Boston due to inequality, exorbitantly priced housing, lack of investment in public transportation and lack of investment that would open up opportunity to children being raised in the inner city—issues he has been concerned with throughout his career and among the many addressed through high-impact initiatives of the Boston Foundation.
Grogan offered advice peppered with personal anecdotes, humor and quotes from the likes of George Bernard Shaw, Colin Powell and E.B. White.
He advised the undergraduates and advanced degree candidates as follows:
"Be unreasonable."
"Powerful interests conspire to keep things the way they are. They're fiercely resistant to change because they benefit from the status quo," said Grogan, giving as an example Sawyer Business School public administration graduates who will encounter "large, unresponsive bureaucracies."
On issues such as the housing crisis, which Grogan said will require a move toward density instead of single-family homes, there is a "need for courageous public servants who can stand up to pressure and citizen activists who can reshape public opinion in their communities."
"Don't let economic success be the extent of your ambition."
While acknowledging the good that comes of innovation and business success, Grogan asked that the graduates spread their talents more widely.
"You're graduating with a prestigious degree in an economy which handsomely rewards educational credentials," he said, and yet "material success is not enough to satisfy the soul."
He told of the many successful people he knows "who arrive at late middle age with the sinking feeling that they haven't made a difference in peoples' lives. So I implore you to volunteer, to vote, to donate to charity … but moreover to be an active citizen and fight for your fellow neighbors who don't enjoy the full promise of an American life."
"Be prepared to be lucky."
Recalling a time when he was asked on short notice to replace a keynote speaker at a Boston civic event, Grogan said that the appearance led to a significant career opportunity.
While he may have prepared a good speech and delivered it well, "no one would have heard it if fate hadn't intervened," he said.
Paraphrasing poet William Ernest Henley, Grogan asked: "Are we captains of our fate or mere ships on the ocean?"
Philosophers have often addressed the question of whether we form our own lives or are steered by forces beyond our control, but Grogan suggested that opportunity is shaped by "the interplay of what we do and what is done to us. He urged a spirit of optimism as the students follow their paths.
Grogan received the honorary degree Doctor of Business Administration at the ceremony, one of three Suffolk commencements held at the Blue Hills Bank Pavilion on the Boston waterfront.
A wealth of University experience
Suffolk University President Marisa Kelly praised the graduates for their courage as they took advantage of all that Suffolk and Boston had to offer them.
"The vast majority of you completed at least one internship," she said. "Some of you started your own businesses and funded them in a Sawyer Business School crowdfunding course. …Others consulted on real business challenges with real companies. …Those companies are now incorporating your research and suggestions into their marketing efforts."
"I expect the experience you have gained during your time at Suffolk has changed your lives forever," said Kelly.
About Paul S. Grogan
The Boston Foundation is one of the nation's oldest and largest community foundations. Under Grogan's leadership since 2001, the Foundation has become a highly influential civic convener on issues and challenges facing the City of Boston and the region.
Before joining the Boston Foundation, Grogan served as vice president for government, community and public affairs at Harvard University and as a senior lecturer at the Harvard Business School. Earlier, as president and CEO of the nonprofit community development intermediary Local Initiatives Support Corporation, Grogan spearheaded a period of national policy successes. Grogan's passion for cities began with his service in the administrations of Boston Mayors Kevin H. White and Raymond L. Flynn.
Grogan is a founder and director of The Community Development Trust and a director of New Profit Inc. He is co-author, with Tony Proscio, of Comeback Cities, a book that has been called "arguably the most important and insightful book on the American city in a generation."
Commencement 2018
The Sawyer Business School Class of 2018 is made up of 941 new alumni, with 603 undergraduate and 338 graduate degrees awarded. The Sawyer Business School ceremony was one of three Suffolk commencements held on Sunday, May 20, at the Blue Hills Bank Pavilion on the Boston waterfront.
The University conveyed a total of 2,030 undergraduate and advanced degrees during weekend ceremonies.
Text of Speeches:
Paul Grogan
Keynote (pdf)
Redona Marku
Undergraduate (pdf)
Boitshoko Phalatse
Graduate (pdf)
Media Coverage
Boston Globe: Suffolk students walk at triple commencement in Seaport