"Each of Us, No Matter Our Calling, Can be Agents of Change and Healing in This World"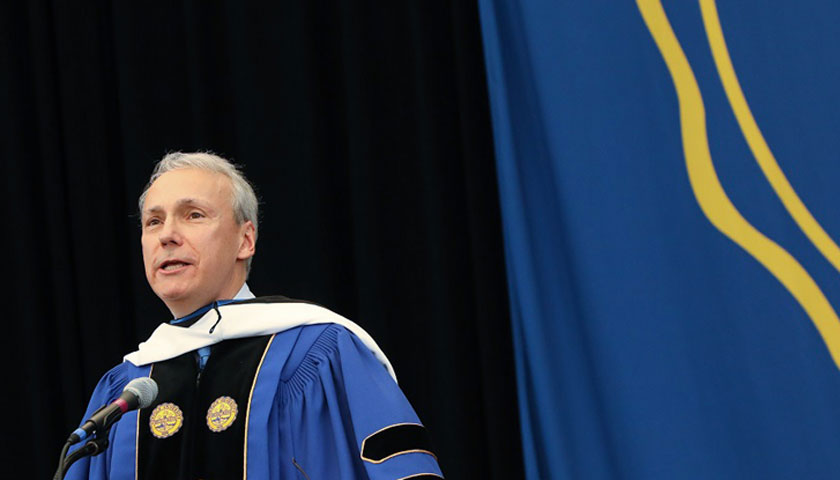 Timothy Phillips, founder and CEO of the internationally respected Beyond Conflict peacemaking and human rights initiative and a Suffolk alumnus, called on Suffolk University graduates to deploy empathy to combat the "serious and real challenges" facing Boston and the United States, including racism, exclusion and a growing partisan divide.
Phillips, whose innovations in the nonprofit and for-profit sectors have had an international impact on peacemaking, democratization, human rights and the environment, was the keynote speaker at the Suffolk University College of Arts & Sciences commencement. He received the honorary degree Doctor of Humane Letters at the ceremony, one of three Suffolk commencements held at the Blue Hills Bank Pavilion on the Boston waterfront.
Phillips drew on lessons learned from his 30-year career working to resolve conflict around the world as he drew parallels among the troubled histories—and paths to healing—of apartheid-era South Africa, Northern Ireland, Bosnia, the Middle East, and contemporary American society. He advised graduates to work together to bridge the country's deep divides.
Lessons from Boston and Around the World
Phillips described growing up in Boston during the "busing crisis" of the mid-1970s, seeing "anger, fear and outrage lead decent individuals to turn against their neighbors and level the sort of violence and vitriol that I later witnessed in Bosnia and the Middle East."
"But I also saw people transcend that fear of the unknown and show that change—real, lasting and transformative change—was possible and achievable, and I saw that here in Boston," he said.
Phillips has worked with leaders from around the world "who've put their lives, their beliefs and their deepest fears on the line to achieve peace with their enemies and to find ways to reconcile and find forgiveness in the aftermath of war and repression."
From apartheid-era dictatorship in South Africa, to the brutal civil war in Northern Ireland, Phillips gained valuable insight into the perspective and empathy needed to overcome the most intense and insidious conflicts.
"The most important lesson I learned from individuals across the world, from every level of society, that transcended geography, race, ethnicity and class, was that exclusion—the experience of being marginalized, humiliated and treated with disrespect for who you are as an individual or as a group—was and remains the biggest driver of conflict in the world," said Phillips.
A Way Forward
"Let's be clear," said Phillips. "We are facing serious and real challenges at home. Racism does exist in Boston in subtle and not-so-subtle ways. Demonization and dehumanization of individuals across the partisan and culture divide is growing in this country. The shining beacon of tolerance, equality and opportunity that we promised to ourselves and promoted to the world is under profound stress and at great risk."
Phillips credited Suffolk for giving him "a place to feel seen, heard, and acknowledged" and a "sense of belonging and community" that would serve as a foundation for the work he would go on to: easing conflict around the world. He urged graduates to use that same foundation as a springboard for improving their own communities.
"Live your life, and treat others the way you want to be treated – with respect, dignity and with inclusion," said Phillips. "If we see each other through that lens, through the awareness of what we want as humans, then each of us no matter what our calling can be an agent of change and healing in this world."
"Remember that positive change is possible in this world and in your lives," he said. "The human capacity for transformation is real, and you can make a truly meaningful difference in this world."
"We all have great expectations for you because our future depends on you."
A Commitment to Service
Suffolk University President Marisa Kelly lauded the graduates' commitment to community engagement during their time in Boston.
"You and your colleagues throughout the University registered more than 30,000 hours of community service," she said. "You have given of your time and talent while also gaining valuable work experience."
Referring to them as "a group of doers," Kelly noted the graduating class's service to organizations such as the Samaritans, Jumpstart, the Sierra Club, Cambridge Women's Center, the Greater Boston Food Bank, Cradles to Crayons, and many others.
"This University has a great tradition of paying it forward that dates back to our founding in 1906. It is in Suffolk's DNA to help others access the same kinds of opportunities that you have all found here," said Kelly.
Kelly also praised the graduates for completing an "education in resourcefulness" to "chart out personal educational pathways of opportunity" by pursuing internships, study abroad and academic research opportunities.
About Timothy Phillips
Phillips is the founder and CEO of Beyond Conflict, a pioneering conflict resolution and reconciliation initiative that has made important contributions to peace and democracy around the world. The organization has achieved international recognition for its contributions to the Northern Ireland peace process, national reconciliation in El Salvador and Nicaragua, the establishment of the Truth and Reconciliation Commission in South Africa and its catalytic role in helping launch the field of transitional justice.
In the private sector, Phillips was a founder of Energia Global International Ltd., a leader in the development and operation of privately owned renewable energy facilities in Central and South America in the early 1990s.
Phillips helped launch and serves on the advisory committee of the Club of Madrid, which works with more than 80 former heads of state and government to promote the consolidation of democracy around the world. He also has advised the U.S. Department of State, the Council of Europe and the United Nations on conflict resolution and democratization.
Phillips serves on the boards of numerous institutions, including the Museum of Fine Arts in Boston and the Foundation for a Civil Society. He also serves as a strategic adviser on issues of democratization, civil society, conflict resolution and technologies to bridge the digital divide in the developing world.
Commencement 2018
The College of Arts & Science Class of 2018 is made up of 759 new alumni, with 592 undergraduate and 167 graduate degrees awarded. The ceremony was one of three Suffolk commencements held on Sunday, May 20, at the Blue Hills Bank Pavilion on the Boston waterfront.
The University conveyed a total of 2,030 undergraduate and advanced degrees during weekend ceremonies.
Text of Speeches:
Timothy Phillips
Keynote (pdf)
Adrian Lambert
Student (PDF)
Media Coverage:
Boston Globe: Suffolk students walk at triple commencement in Seaport