Interior Design Thesis Wins Student a Ticket to European Conference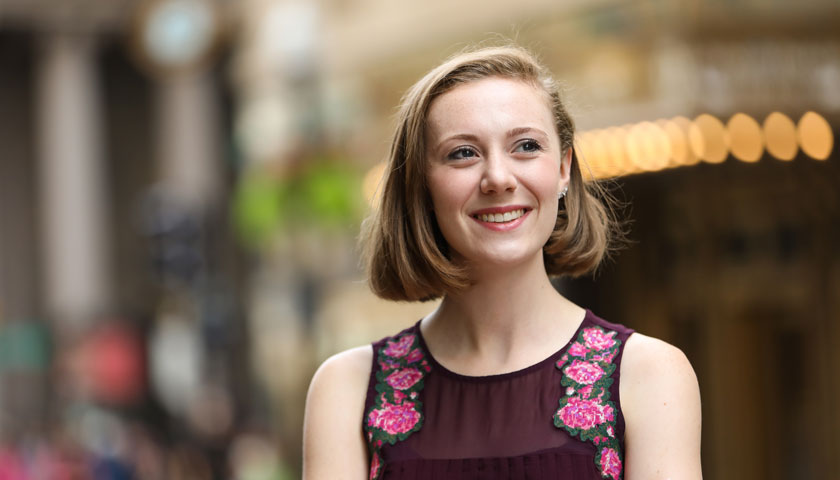 When Brianna Boidi planned her interior design senior thesis project, she wanted to create a space that went beyond form and function. Her vision for a community-building interfaith center would open her eyes to new aspects of design and take her on a trip far from home.
A Harmonious Space for All
Boidi's interfaith center design received top honors from the Design Lighting Forum of New England travel scholarship contest, allowing her to attend the Light + Building conference in Frankfurt, Germany, this spring.
"Interfaith space is important for creating unity," says Boidi, Class of 2018. "Bringing people of all faiths together creates dialogue. My goal was to design a universal space, not a watered-down space."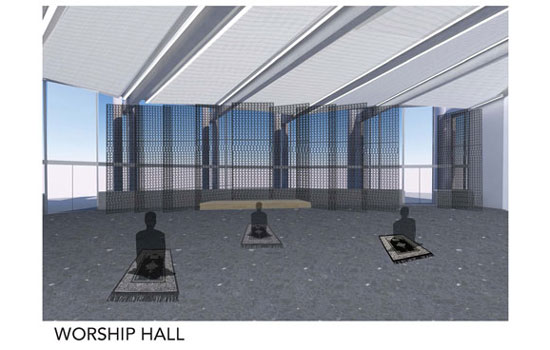 To plan a center that would meet the needs of Boston's diverse faith communities, Boidi worked with the Rev. Amy Fisher, Suffolk University's chaplain, to research various religious requirements. For instance, many faiths need ablution areas, and while some can be gender neutral others necessitate a division of the sexes. Some require separate kitchen facilities due to dietary restrictions. These practical aspects must be well researched and incorporated to ensure that the space is welcoming to all.
Boidi was inspired by Boston-area chapels that harness natural light in small areas to inspiring effect.
"I never really considered lighting until this project. Doing research, I found a lot of information about lighting in spiritual spaces," says Boidi.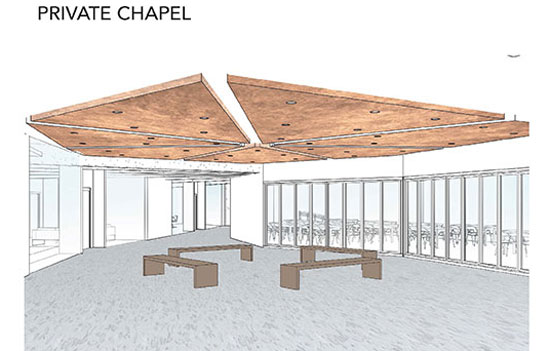 Lighting the Way
The Design Lighting Forum of New England travel scholarship contest's theme was: "How can dynamic light and lighting improve the experience of space?"
"I incorporated changing light into my planning, doing a sun study of when and how the light would come into the center and how that would impact the look, temperature, and energy needs of the space," says Boidi.
She drew on lessons learned in her advanced lighting seminar course with instructor Shahrzad Abtahi, who received a master of interior architecture degree from Suffolk in 2013.
Abtahi recently was named one of Lighting Magazine's "40 under 40" for her work as a senior lighting designer at Boston firm Sladen and Feinstein. As one of the first lighting professionals to earn WELL accreditation, Abtahi focuses on human-centered designs that improve the well-being of the occupants of a space.
"Lighting can change mood and productivity," says Abtahi. "Manipulating lighting can change or delay the body's circadian rhythm, or sleep/wake cycle. For example, blue-toned lights such as those from cell phones or televisions can keep you up and disrupt your sleep, whereas using a light alarm in the morning can help you wake up much more naturally.
In her work, Abtahi researches light patterns and space usage needs and tries to design adaptive spaces that incorporate or recreate the light cycle outside – with brighter light in the morning shifting to warmer tones as the day progresses. This attention to planning is a quality Abtahi and Boidi share.
"Brianna is really smart, very detail-oriented, and knows the value of a good lighting design," says Abtahi.
Competition Leads to Eye-opening Experience
Boidi wasn't the first Suffolk student to enter the travel scholarship competition. Abtahi won the prize as a student in 2013.
This year's competition required participants to create presentations timed to rapidly changing images. Boidi credits performance skills developed through Suffolk's theater program with helping her succeed in the daunting format.
Her win allowed her to travel to her first professional design conference, and to explore Germany.
"It's a small community," says Abtahi. "When I attended the lighting conference I felt like a part of the design world, not just a design student."
The international forum was a great professional networking opportunity for Boidi. It also convinced her to take some time off before she starts work as a junior designer at LDa Architects in Cambridge later this summer. Inspired by her time in Germany, Boidi plans to travel for a few months after graduation, soaking up inspiration abroad.