Aiming to Fulfill Need for Culturally Responsive Medicine
Formerly homeless senior excels at Suffolk while promoting social justice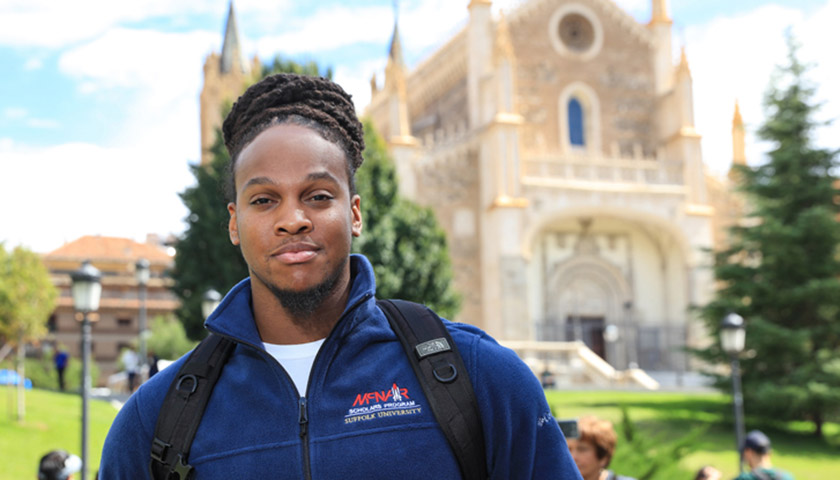 John Brown, once a homeless high school dropout, is about to graduate Suffolk University, never having lost sight of his dream to become a doctor emphasizing culturally responsive medicine.
To reach that goal, Brown chose to follow a challenging educational path. He received a full scholarship to Suffolk from the Jack Kent Cooke Foundation, which helps exceptionally promising students who have financial need, and jumped at the opportunity to "learn as much as I can and work my way up."
He was awarded a prestigious summer fellowship at Yale University School of Medicine, funded through the Robert Wood Johnson Foundation, which allowed him to take advanced classes in the sciences, public health, and English to better prepare him for medical school.
Support for those who struggle
Yet Brown is a study in selflessness, so while earning a sociology degree, he also impacted lives on and off campus through his commitment to social justice, community activism, and intellectual achievement.
"Suffolk educated me to become the best citizen I could be," said Brown, Class of 2018.
Last year he started Kings of the Jungle, a campaign to address the intersection of LBGTQ and suicide in the black community. The effort came in response to an LGBTQ friend's suicide stemming from issues that included depression.
"We had connected because we were both homeless at the time and fighting for a better future for ourselves," said Brown, who began the initiative in Atlanta and hopes to launch it in Boston and New York later this year. "He didn't make it, so I'm fighting for us both."
Brown emphasized the depths of the cause. "It's about reminding people that they're beautiful, inside and out, and that they don't have to conform to society's ideologies," he said. "More importantly, I want them to know that they are supported."
Racial justice efforts
On campus, Brown advocated for racial justice through the Black Student Union, the Young Men of Color group, and the Student Government Association. He also worked in the Boston community to address physical and social health through summer workshops with young people of color.
In addition, Brown, a McNair Fellow, conducted research in a correctional facility as part of the Jericho Circle Project. His report on his two-year effort, "The Social Construction of Black Masculinity in a Correctional Facility," won a McNair-Ballotti Award for best student paper in 2017.
Early challenges
Brown was born in Jamaica and moved to Boston's Mattapan neighborhood when he was a young boy to live with his grandmother. He dropped out of high school with three months left to go and subsequently became homeless because "my life was without guidance and a support system."
But Brown got back on track, earned a GED and then an associate's degree from Massachusetts Bay Community College before entering Suffolk University and making a name for himself.
Award-winning student
The Sociology Department honored Brown with its 2018 Sharon Kurtz Memorial Award, given to a senior who emulates the late Professor Kurtz by demonstrating high academic rigor, a commitment to social justice, and commitment to service at Suffolk and on the outside.
"John is one of the best students I've ever had," said Sociology Professor Susan Sered. "He not only understands concepts at a deep level, but he is able to explain them to other people."
Encouraging others' achievements
He also provides inspiration to others.
"John motivated me to go back to school and get my degree," said Marcus Pearce, Brown's best friend and a fellow member of Suffolk's Class of 2018. "He's definitely an overachiever who has made a real impact on me."
Post-grad ambitions
After graduation, Brown plans to spend a year traveling the world to expand his knowledge of different cultures, build his Kings of the Jungle campaign into a non-profit organization, and study for the GRE and MCAT exams. He will then apply to medical school and aims to put an MD/PhD to work in either OB/GYN or infectious disease medicine in culturally competent ways that he feels that are lacking in the medical field at this time.
"With all the success I earned throughout my college career and in my personal life, I'm making a promise to myself to give back to those in need," said Brown.
"I think John would be a great doctor," said Sered. "He is bright, conscientious, has good listening skills, and the uncanny ability to see the big picture."