Law Student in "Dreamer" Program Wins Asylum Bid for Young Client
Her experience as an immigrant was the "driving force" for Leila Fajardo-Giles' decision to study the law, and one of this DACA enrollee's most rewarding student achievements was helping another young woman obtain asylum status in the United States.
"It was my proudest moment," said the Suffolk University Law School student, Class of 2018. "I've always wanted to help advocate for those who may not have a voice in this country."
Fajardo-Giles, 27, came to America from Peru 20 years ago and thus qualified for the "Dreamer" program that has been under fire for more than a year. She entered Suffolk Law as an evening division student four years ago.
When she heard about an opportunity to become a student attorney in the Law School's Immigration Clinic, Fajardo-Giles applied for the competitive position and was accepted a year ago. Meanwhile she saw the DACA program that defers deportation of undocumented people brought to America as children buffeted between the courts and the White House.
Preparing case for asylum
One of her Immigration Clinic cases involved preparing a young woman for an asylum interview with the U.S. Citizenship and Immigration Services. Fajardo-Giles spent countless hours helping her client detail the severe abuse she suffered in her home country and preparing the legal argument for the case.
This legal practice experience taught Fajardo-Giles the importance of detailed investigation, legal research and writing, and organizational skills. "It was a preview of what I can expect in the future," she said.
Fajardo-Giles' hard work and determination paid off when her client was granted asylum earlier this year.
"Working with this client who was not much younger than me was so rewarding," she said. "It reminded me that I chose the right career path and that I have the ability to make a difference in someone's life."
Meeting mentor's expectations
A significant person in Fajardo-Giles life– in the classroom and as her Immigration Clinic supervisor – has been Clinical Professor of Law Ragini Shah.
"She is very demanding, but it's for your own good because she wants you to excel," said Fajardo-Giles of her mentor. "She has taught me about perseverance, hard work, and to check my facts over and over again."
Learning and doing
Shah uses the term "consummate learner" when describing Fajardo-Giles. "Leila takes feedback and makes each of her actions – whether it's interviewing or writing – better," she said.
"I believe that her outstanding work in the Immigration Clinic showed that she will be a great asset to any firm or public interest office, particularly those focused on immigration."
During her time at Suffolk Law, Fajardo-Giles worked as a neighborhood liaison for Boston City Councilor Josh Zakim, responsible for constituent services, and as a paralegal for the city of Boston's Litigation Division.
On campus, she was director of public relations for Suffolk's Immigration Law Association and secretary for the Latin American Law Student Association.
"Immigration is a hot topic nationwide today, and I want to be part of it," said Fajardo-Giles. "I love the city of Boston, and I look forward to continue my work in the legal immigration community and helping more people as an attorney."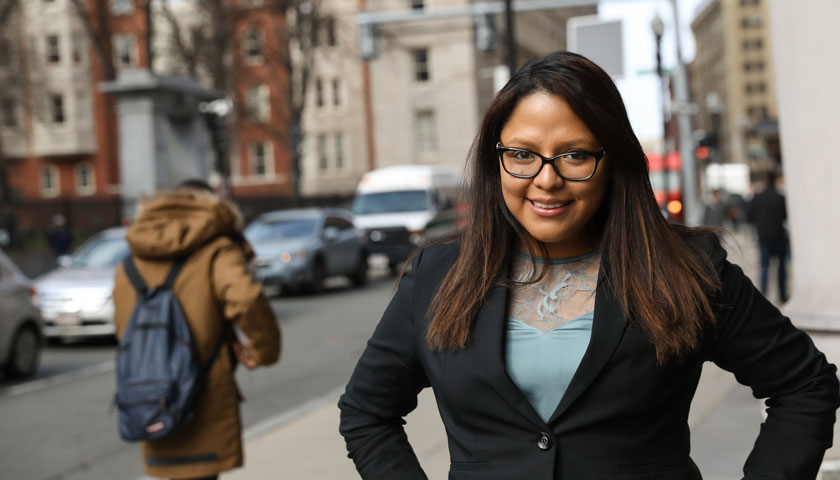 Contact
Office of Public Affairs
617-573-8428