Exploring Public Memory
"Whether you're building a statue or writing a history book, you are framing the subject for what you find valuable to present in telling a historical story." —Jason Tucker
Integrating the art of storytelling with analysis of Boston's historical and current events brings students to a higher understanding of how the city's character has been shaped.
Students in the Making History: Public Memory in the Digital Age class look closely at the rhetoric surrounding acts of public memory in Boston and then create publicly accessible websites that contribute to the story of the city and its history.
"Students get to explore how we remember historical and current events in Boston, and then add their own perspectives by creating their own websites," said Jason Tucker, course instructor in the English department.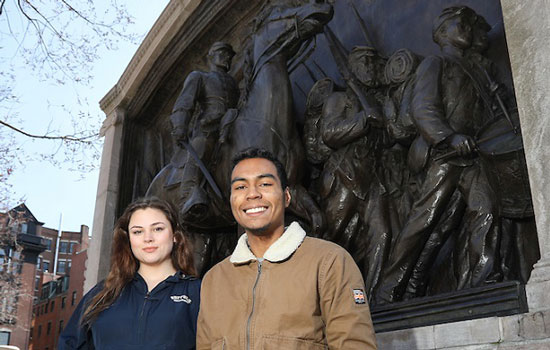 The Making History class is part of Suffolk's Creativity & Innovation curriculum, which encourages first-year students to take chances as they establish creative practices. These required courses are aimed at instilling flexibility in thinking so that students will explore new ideas without fearing failure.
A Critical Eye
Tucker believes that students gained valuable skills through the website-building process. "They saw what it was like to write a draft of history and experience the creative, technical, and ethical challenges of curating an archive," he said.
"The whole idea is for students to learn through making things," said Tucker. "And in making things, you need to develop a critical eye and develop creative problem-solving skills. Whether you're building a statue or writing a history book, you are framing the subject for what you find valuable to present in telling a historical story."
Critiquing a Civil War Memorial
One student group visited the Robert Gould Shaw Memorial, depicting the first African American regiment established in northern states during the Civil War being led by Shaw, a white colonel on a horse.
In the presentation that followed, "the students noticed that Shaw was the only person named," said Tucker. "They said that if they were to tell the story differently, they would make a memorial that named each and every soldier in the regiment, emphasizing their accomplishments and struggles as well as their commander's."
Other student groups in the class toured sites like the Paul Revere Statue and the tiny plaque marking the Great Boston Molasses Flood, both in the North End, and the Beacon Hill Home of African American abolitionists Lewis and Harriet Hayden.
Studying the Roots of Gang Violence
Ashley Ceravone, Class of 2021, said the course has improved her research, analytical, and team-building skills and that it encourages her to think freely.
"It allows me to have an open mind," she said. "On each assignment, instead of focusing on my own opinion, I'm trying to find a story of historical importance that is not often told."
Ceravone and the three other students on her study team spent much of the semester learning about youth involvement in Boston-area gang violence. Their research was presented through a comprehensive paper on the issue as well as on their "Breaking the Cycle: Youth vs. Gangs" website.
"We've come to understand why teenagers get involved with gang violence and that it's a cycle that's extremely hard to break out of," she said.
Team members rotate through roles, such as group chair or research leader, for each collaborative assignment, and Ceravone, a politics, philosophy and economics major, believes that familiarity with the different responsibilities "will make me a well-rounded person."
Examining Response to a Tragedy
Nick Nunez and his work group examined the public, police, and media response to the Boston Marathon bombings. The group's final project focused on community policing in Boston, and its website is "The Inner Workings of Boston Community Policing."
"We're looking at how the police are taking a more proactive approach to what they do compared to responding with conflict when crime happens," said Nunez, Class of 2021. "It involves how the police are building relationships with people in the community, particularly those communities more prone to crime."
Among the lessons Nunez has gleaned from the course is "how a story is framed to benefit the purpose," and "how to gauge the level of expertise" of every group member.
Team Learning
Each student group has created a digital archive project and given in-class talks on their research.
"My main goal is for students to collaborate with their peers by participating in a group setting," said Tucker. "I also want equal citizenship for everyone in the group. They have to negotiate their differences in creativity and skills and then use those differences to build something amazing that none of them could have built on their own."